'Overwatch' Netflix: This fan-made trailer has us clamoring for the real thing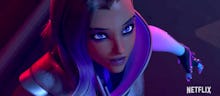 Murmurings of an Overwatch television show have been percolating for a few months, but it's still nothing but fantasy at this point. However, YouTuber Lion Montages did their best to bring those rumors to life, cutting together a pretty amazing trailer for a show in the style of a Netflix original series.
Using little snippets of the Overwatch animated shorts — and that god-awful song from the Mass Effect Andromeda trailer — Lion Montages managed to create a convincing look at what a linear Overwatch series might look like. And we want it. Like, now.
Until Blizzard announces something official, we'll just have to keep watching that trailer on repeat. There's always that Reaper/Doomfist fanfic to hold us over, too.
More Overwatch news and updates
For more on Overwatch, check out the rest of what Mic has to offer. Here is an intro to the cute, new "Wholesome Overwatch" subreddit, a look at some gorgeous Overwatch-themed PS4 and Xbox One controllers, a cool Easter Egg in the new Horizon Lunar Colony map and a criticism of Blizzard's failures in its design of Symmetra.