Muslim groups in Indonesia and Malaysia call for Starbucks boycott due to company's LGBTQ stance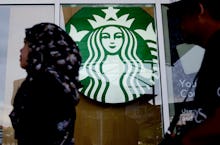 Leaders from two Muslim groups in Indonesia and Malaysia are pushing their members to boycott Starbucks, due to the company's pro-LGBTQ stance.
Indonesian group Muhammadiyah spoke out against the coffee chain this week in response to a 2013 quote from CEO Howard Schultz that some have understood as a declaration of his support for gay marriage. With 29 million members, the group stands as Indonesia's second-largest mainstream Muslim group.
Perkasa, a conservative Muslim group in Malaysia with about 700,000 members, joined Muhammadiyah in their call against Starbucks, adding that Malaysia should revoke the company's license to operate in the country.
As of October 2016, Starbucks owned approximately 226 stores in Malaysia and 260 locations in Indonesia, according to statistic database Statista.
Malaysia maintains a criminal ban against sodomy, punishing those found guilty of engaging in same-sex sexual activities with up to 20 years in prison. The country has a number of other anti-LGBTQ measures in place, including a regulation that requires all LGBTQ movie characters to either die or repent for their homosexuality by the end of the film.
Perkasa's Islamic affairs bureau head, Amini Amir Abdullah, told Reuters that Starbucks' support for gay rights contradicts Malaysia's constitution.
"Our objection is because they are promoting something that is against the human instinct, against human behavior and against religion," Amini said. "That's why we are against it."
Homosexuality is not illegal throughout most of Indonesia, with the exception of conservative province Aceh. However, CNN reported in May that LGBTQ tolerance in the country has been declining rapidly throughout the past two years, with police raids and calls to criminalize homosexual intercourse on the rise.
"In all countries where we do business, we are proud to be a part of the fabric of the local community, and we strive to be respectful of local customs and traditions while staying true to Starbucks long-standing values and purpose," Starbucks said in a statement provided to Mic.
Despite the anti-LGBTQ climate growing in parts of these two majority-Muslim countries, Imam Daayiee Abdullah, executive director of MECCA Institute and the first openly gay Imam in the United States, encourages the public to remember that not all Muslims harbor these beliefs.
"There are Muslims of all different backgrounds and Muslims of all different ideologies, meaning that they understand Islam in a multitude of ways," Abdullah said in an interview with Mic. "There's not a one-size-fits-all Islam."
As for the boycott, Abdullah said he stands in support of Starbucks due to the company's commitment to anti-discriminatory policies.
"I believe that they are standing in the right position as it relates to their corporation, their employees and for the standards that are expected here in the United States," Abdullah said.
The Associated Press reported that stocks for the company that runs Starbucks in Indonesia dropped dramatically this week following the calls for a boycott, but also noted that the chain's Jakarta locations seem to be receiving business as usual.