'Overwatch' Tokidoki Toys: Release date, characters and what we know so far about the collection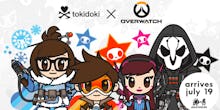 Overwatch merchandise, whether official or not, is always adorable. The vibrant characters really lend themselves to all sorts of figures, apparel and accessories.
That's why a lot of fans will be excited to hear that Overwatch is doing a collaboration with Tokidoki — on online store that creates lines for different brands, often related to something nerdy.
Overwatch Tokidoki toys: What we know so far about the collection
The only announcement we have for this collaboration was on the Overwatch Twitter. All the information we've been given says that the collection will be released on July 19.
It's unclear at this point if we should expect more teaser posts, but the original does give us some insight. We can probably expect that the four characters shown — D.Va, Tracer, Mei and Reaper — will be involved somehow.
More Overwatch news and updates
For more on Overwatch, check out the rest of what Mic has to offer. Here is an intro to the cute, new "Wholesome Overwatch" subreddit, a look at some gorgeous Overwatch-themed PS4 and Xbox One controllers, a cool Easter egg in the new Horizon Lunar Colony map and a criticism of Blizzard's failures in its design of Symmetra.