'Splatoon 2' Release Date: Free demo, new weapons and phone app announced at Nintendo Direct event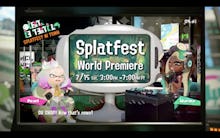 The Splatoon 2 release date is almost upon us and Nintendo has provided more details via their Direct livestream. Unlike Mario Kart 8 and Pokkén Tournament, which bring "deluxe" versions of the Wii U games to Nintendo Switch, Splatoon 2 acts as a sequel. So what does Splatoon 2 bring that the original doesn't? Check out everything Nintendo announced during the Splatoon 2 Direct for July 2017.
Splatoon 2 release date: New weapons and gear
The Splatoon 2 Nintendo Direct offered details regarding the weapons and gear we'll see in the upcoming Nintendo Switch game. Main, sub and special weapons are all accounted for in this game. In the main group, players can arm themselves with things like Chargers, Dualies and Sloshers.
In the newest game players can use the Clash Blaster, the Flazinga Rollers, the Goo Tuber and the Dapple Dualies. Dualies also let you dodge roll.
Sub weapons in Splatoon 2 help players with defense and scoping out the arena. Autobomb and Toxic Mist are returning with new weapons "currently in development," according to the stream.
Special weapons like the Tenta Missles and Inkjet are among the coolest, which let you rain paint on your enemies and then fly away. A new weapon called the Baller lets you roll around in a hamster wheel and explode, covering the nearby area in paint. Other special weapons include the Splashdown, Ink Storm, Bomb Launcher and Ink Armor.
Single player mode will see a new weapon as well, the Splat Brella – though that will only be available as DLC.
The Direct livestream also went into what kind of gear Splatoon 2 on the Switch will see. Headwear and shoes affect your character, providing different abilities in battle. Players can talk to the in-game character Murch to add or take away abilities like Thermal Ink, Quick Respawn, and Respawn Punisher.
Splatoon 2 release date details: Game modes
Splatoon 2 players on Switch will gain access to multiplayer modes like Turf War, Ranked Battle and League Battle. In Turf War, players can be knocked out an unlimited number of times and are tasked with inking the largest amount of area on the playing field. Ranked Battle lets you see which player is more skillful in challenges like Tower Control, Splat Zones and Rainmaker. League Battle is just as it sounds – if you play well, you win in-game medals.
Modes likes Salmon Run let you take on hordes of salmonids, fly fish and an the boss enemy Steelhead. Along with the new gear and weapons in Splatoon 2, certain items can only be earned in Salmon Run mode.
Splatoon 2 release date: SplatNet 2 smartphone app coming July 21
Nintendo finally has details about the smartphone app Splatoon 2 players can look forward to. Along with being the sole method of voice chat for the game (for better or worse), the app will give players stats like the results of their last 50 battles, their win rate and lifetime inkage, comparing how much land you've ink to real world places.
The app also lets you send gear to Murch from your phone, even when your Switch isn't nearby.
Splatoon 2 release date: Free demo date and other miscellaneous info
Amiibo and the Switch's LAN mode will be supported while playing Splatoon 2. Players can set different control sensitivity between handheld mode and docked mode when playing on TV. There's also a rhythm game tucked away inside Splatoon 2 that actually looks pretty fun.
But most important to players right now, a free demo of the game is coming a week before release date.
The world premiere of Splatfest goes down on July 15 from 6 p.m. ET to 10 p.m. ET. Don't miss out on your chance to play the game before the July 21 release date. You can watch the announcement in its entirety below.
Check out more Nintendo news and coverage
Looking for more Nintendo Switch news? See our impressions of Splatoon's global testfire, check out how blind gamers are using the Nintendo Switch and why you can't get your Mii to look quite like you. Nintendo's left Joy-Con issue turns out to be a hardware problem — here's how to solve it. Find out how to buy a console amidst the recent restock. Learn why the Switch cartridges taste so bad. Check out our comparison photos sizing up the Switch to the Wii U GamePad (part one and part two), or find out how to make use of ethernet without the dock and the best way to get alerts when new stock arrives.