How to add a background on Snapchat using the app's new tools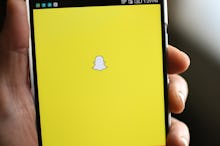 Snapchat rolled out an array of new features for iOS and Android users on Wednesday. One of the features is backdrops — the ability to place colorful and artful patterns behind any of their photo snaps.
To use this feature, make sure you have updated to the most recent version of Snapchat. Then, open the app and take a photo snap. Tap on the "scissors" in the vertical toolkit and the backdrop icon will appear — it is a square.
Once you select the icon, a series of backdrops will appear. You can scroll through to see them all. the variety of backdrops available will change daily.
After picking the backdrop of your choice, trace the object or the area of the Snap that you want to bring to the foreground. You can also change backdrops after tracing.