8 months later, nation's top cyberbullying experts still haven't heard from Melania Trump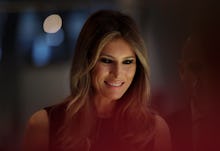 Eight months after Melania Trump announced she would take on cyberbullying as first lady of the United States, some of the nation's most prominent anti-cyberbullying experts told Mic that neither they nor any of their colleagues in the field had been contacted by Trump or anyone from her staff.
"Everyone says that they haven't heard from her at all," Dr. Sameer Hinduja, co-director of the Cyberbullying Research Center and professor of criminology at Florida Atlantic University, said on the phone. "You can imagine that the circle of experts here is pretty small."
Continuing the longstanding tradition of first ladies choosing an issue to tackle that helps set the tone for their husbands' presidencies, Trump made a rare public appearance along the campaign trail in November 2016 to announce that, if her husband Donald were elected president, she would take on cyberbullying to prevent children from becoming the targets of an increasingly mean-spirited America.
"Our culture has gotten too mean and too rough, especially to children and teenagers," Trump said. "It is never OK when a 12-year-old girl or boy is mocked, bullied or attacked. It is terrible when that happens on the playground and it is absolutely unacceptable when it's done by someone with no name hiding on the internet."
Following the announcement, experts in the field of cyberbullying and online harassment said they made known to the first lady's office their willingness to work with her to combat toxic behavior on the internet.
"After Melania Trump announced that she wanted to address cyberbullying, we have consistently said we'd be willing to work with her," Stephen Balkam, founder and CEO of the Family Online Safety Institute, said Thursday. "But I'm not sure if anyone has publicly heard from her or her office."
"It's one of the many mysteries of the 2016 presidential campaign," Larry Magid, CEO of ConnectSafely, said of Trump's decision to focus her office on hampering online harassment. "Why she chose to put herself in a position where she is taking on the very issue that her husband is so publicly guilty of is just bizarre."
After Trump's stated commitment, Magid told Mic he reached out directly to the first lady to work with her on how she could be an effective combatant of cyberbullying. However, he said he heard no response from either the first lady or anyone from her office.
"I wrote her a nice letter sincerely offering to help and introduce people that could help her, and I never heard from her, which surprised me," Magid said. "I expected at least a form letter."
Stephanie Grisham, press secretary for Melania Trump, could not be immediately reached for comment on this story. When USA Today reached out in May to ask about the first lady's initiative against cyberbullying, Grisham told the outlet it was a "work in progress."
"Mrs. Trump is being very thoughtful when it comes to building out her initiatives," Grisham said. She also confirmed the first lady's appearance at a lunch with Senate spouses celebrating her 47th birthday where she mentioned cyberbullying, though there is no transcript for this lunch because it was closed to the media.
On the campaign trail and throughout his presidency, many accused President Donald Trump of using Twitter to hurl sexist insults at opponents and critics alike. Last week, he tweeted that morning show anchor Mika Brzezinski — who in her role as journalist has been critical of the Trump administration — was "dumb as a rock," had a "low I.Q." and was "bleeding badly from a face-lift" while she begged the president to spend time with her at Mar-a-Lago, his Florida resort.
In a statement, the Office of the First Lady defended her husband's right to smear Brzezinski, stating that "when her husband gets attacked, he will punch back 10 times harder."
Anti-cyberbullying experts agreed that this was the wrong tack for anyone to take — let alone someone who had announced a commitment to ending cyberbullying.
"This comment was worse than silence," Magid said. "If Melania considers herself a spokesperson for cyberbullying, the first thing she has to do is retract that statement."
Though Hinduja did not go as far as to directly criticize the first lady for her statement, he said retaliating against a bully is generally the wrong strategy to take.
"We don't encourage retaliation," Hinduja said. "That can lead to a cycle of violence. It doesn't lead to a resolution if you simply respond to harm with more harm."
Balkam echoed those concerns, calling attention to how the president's escalation was not anything someone who is committed to ending cyberbullying should praise.
"Certainly, the president's actions online are anything but what we would promote in terms of how to either deal with a bully or how to behave online," Balkam said.
Though the anti-cyberbullying experts agreed Trump's months of silence — followed by a defense of her husband's behavior — raised questions about her commitment to their cause, none were willing to give up on her just yet. However, they agreed that in order to take a stand against cyberbullying, she would face the challenge of separating her cause from her husband's behavior.
"Anything she does, there's going to be a huge elephant in the room," Magid said. "I don't know how she could possibly be effective in her campaign against cyberbullying without acknowledging her husband's behavior."
"At the very beginning, she'd have to issue a disclaimer that said, 'Look, I want to share with you my heart and I want you to separate your preconceptions about me and my husband, I just want you to share with you my story and how that motivates me to care about this issue,'" Hinduja said. "Melania does have a platform, and using it to share her heartbeat on this issue could be very powerful."
Mic continues to reach out to cyberbullying experts to ask whether they've heard from the Office of the First Lady. We will update as we speak to more. If you are a cyberbullying expert or an anti-cyberbullying activist and you have heard from Melania Trump, please email tony@mic.com.