'Pokémon Go' UK Anniversary Event: Chester Castle will get the next Niantic event in late July 2017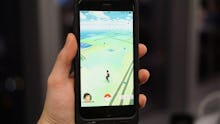 Pokémon Go has made a concerted push to keep things fresh this summer for the game's anniversary. Niantic released a gym update and cooperative raid battles, and they're holding a live event in Chicago on July 22.
Although North Americans have to wait until the next live event, the same isn't true for trainers from the U.K. It turns out that Niantic is cosponsoring an event in the city of Chester on July 22 as well. Read on below for more information.
Pokémon Go U.K. event: Niantic and Chester-based Big Heritage working together
According to The Chester Chronicle, the Pokémon Go event will coincide with the town's annual Heritage Festival the weekend of July 22. Niantic Labs will work with a "heritage social enterprise" called Big Heritage to curate historical locations to place PokéStops within the city of Chester. The event has promised a number of fun in-game and real-world activities for trainers to participate in, including ones at Chester Castle, which will be reopened for the first time in 20 years.
Although fans hope the Chicago live event might herald a huge reveal for the game, coordinations between Niantic and local communities are also common. For instance, Niantic has already hosted two events in Japan meant to drive tourism back to areas devastated by natural disasters.
While the focus of the Chester event is slightly different, it retains a similar feel to smaller-scale events. It's also clear that Niantic is interested in pursuing more real-world events in the future. The official post for the anniversary event earlier today hinted that more events would come to Europe and Japan at the end of the summer and into the fall.
If you're close to Chester and feeling some Chicago Pokémon FOMO, you might as well take the opportunity to learn a little bit more about the history of the U.K. while catching Mr. Mime and Bulbasaur.
More Pokémon Go news, updates, tips and tricks
Raids are here! See why they may be the key to legendary Pokémon. Find out how to determine how long it will take you to reach level 40, and see what we think of the Gen 2 Pokémon added to the game. Here are the kinds of Pokémon you get from 10-kilometer eggs, and here's where you can check out what you missed during the Water Festival and Solstice events. Find out more about the upcoming Chicago event and why you'll probably be able to catch Unown while you're there — if you're not busy searching for rare evolutionary items, that is.