'Horizon Zero Dawn' Update 1.30: Full patch notes include New Game Plus, new trophies and face paint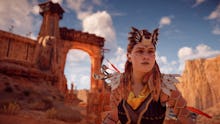 Horizon Zero Dawn's Frozen Wilds downloadable content isn't out just yet, but Guerrilla Games just released a free patch, version 1.30, to hold us over until then.
In addition to the usual litany of bug fixes, update 1.30 introduces a New Game+ mode that you can start once you complete the main campaign. In this mode, you'll retain all your level progression and item inventory from your first playthrough, but you won't be able to exceed the existing level cap of 50. If you need a bit more of a challenge for that second playthrough, you can also bump up the difficulty to the new Ultra Hard mode.
If you're into Horizon Zero Dawn for all of Aloy's slick outfits — who among us isn't? — you'll also be pleased to know that update 1.30 introduces new face paint options, new appearance options for Aloy's focus and some new versions of existing weapons with additional modification slots.
The full update patch notes for PS4 are embedded below.
Horizon Zero Dawn update 1.30 patch notes
Patch 1.30
• New Game+ mode added, requires Main Quest completion
• Additional difficulty level Ultra Hard added
• Two new trophies added for New Game+ and Ultra Hard difficulty
• Added support for all European Union and U.S. text languages on EU and U.S. SKUs
• Crash and progression fixes
More gaming news and updates
Check out the latest from Mic, like this essay about the sinister, subtle evils lurking in rural America that Far Cry 5 shouldn't ignore. Also, be sure to read our review of Tekken 7, an article about D.Va's influence on one Overwatch player's ideas about femininity and an analysis of gaming's racist habit of darkening villains' skin tones.