New Zealand apologizes to men convicted under old anti-gay laws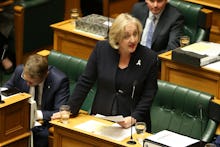 New Zealand legislators apologized Thursday for the "tremendous hurt and suffering" gay and bisexual men faced for convictions of homosexuality when it was against the law, the Associated Press reported.
The New Zealand Parliament voted unanimously to issue a formal apology to the men convicted under the former laws. Along with the apology, lawmakers put forward bill to expunge these men's records of their convictions.
The law is being introduced four years after the nation legalized same-sex marriage.
"Today we are putting on the record that this House deeply regrets the hurt and stigma suffered by the many hundreds of New Zealand men who were turned into criminals by a law that was profoundly wrong, and for that we are sorry," Justice Minister Amy Adams said, according to the Associated Press.
"It is never too late to apologize," Adams added. "While we cannot ever erase the injustice, this apology is a symbolic but important act that we hope will help address the harm and right this historic wrong."
About 1,000 men will be able to have their convictions erased. Most of those men were convicted between 1965 and 1986, when New Zealand wiped out their anti-homosexuality laws, including indecency, sodomy and providing a place for homosexual acts, according to the Associated Press.
New Zealand joins Germany and England, who also recently apologized to gay and bisexual men who were convicted under anti-gay laws.
In June, Germany voted to quash convictions of gay men who were convicted under Paragraph 175, an 1871 law that was not often enforced until the Nazi party came to power. Not only did Germany erase the men's convictions, it also offered compensation to those who were imprisoned under the law, which was abolished in East Germany in 1968 and reunified Germany in 1994.
In January, England also pardoned gay men convicted under its laws. The English pardon came after Queen Elizabeth pardoned computer engineer Alan Turing, who was instrumental in ending World War II. England's sodomy laws were overturned in 1967.
After it legalized same-sex marriage, New Zealand became a refuge for same-sex couples looking to get married who could not wed in nearby countries like China or Australia, BuzzFeed reported. Of the 954 couples who wed or entered into same-sex unions in New Zealand in 2016, nearly half of the couples came from overseas.