Kesha is back and looking to heal on her new song "Praying"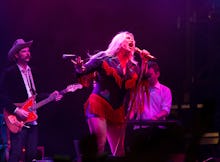 If Kesha has anything to say about it, the first thing listeners will think of when they hear her name going forward is peaceful empowerment.
The embattled pop star released the first single, "Praying," off of her upcoming album Rainbow on Thursday, and with it opened up a raw side of herself that will likely have everyone — even non-Kesha fans — paying attention.
In other words, it's safe to assume Jerry Seinfeld won't exhibit a puzzled expression the next time someone says "Kesha." (Back in June, the comedian brushed off the singer's repeated requests for a hug, claiming he didn't know who she was. The incident went viral.)
"Praying," which was co-written by Ryan Lewis, is a biblically inspired anthem — there are a lot of references to God — that finds Kesha voicing empathy for "someone else, even if they hurt you or scare you." The 30-year-old singer offers up this explanation of the song in an essay penned for Lena Dunham and Jenni Konner's Lenny Letter: "It's a song about learning to be proud of the person you are even during low moments when you feel alone. It's also about hoping everyone, even someone who hurt you, can heal."
While she doesn't reference him outright, it's not too far-fetched to say that this new track, Kesha's first solo release in four years (since 2013's Deconstructed EP), is about songwriter-producer Dr. Luke. Over the past few years, Kesha's name became more synonymous with the sexual and psychological abuse allegations she made toward her onetime collaborator.
But between the lyrical release of "Praying" and its lavish accompanying video, it's clear that Kesha has moved past the fighting stage and into one of freedom. The imagery in the video is not subtle: In several instances, she is trapped in tight fishing nets, but in others, she is sporting an angelic pair of wings.
However, her lyrics trump any further metaphors of "slavery," because venting over unfair treatment is not the purpose of this track. Not only is Kesha liberated, but with this newfound empowerment comes the confidence that those who have hurt her (cough, Dr. Luke, cough) will experience a fate worse than any sort of bad press: obscurity.
I'm proud of who I am
Watch the video for "Praying" below:
Rainbow is due out Aug. 11, via RCA and Kemosabe (Dr. Luke is the former CEO of the latter label). The new album will feature guest spots from Eagles of Death Metal and Dolly Parton.
Mic has ongoing Kesha coverage. Please follow our Kesha hub here.