'Splatoon 2' Direct: Marina, Pearl and the squid kids' clothing options are off the hook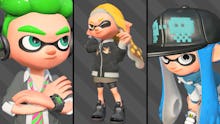 Nintendo just livestreamed a video presentation for its upcoming multiplayer shooter Splatoon 2, and I simply can't get over how freakin' fashionable all those little squidlings are.
As if Nintendo knew I was watching, the whole beginning of the 26-minute Nintendo Direct is devoted to the various clothing options you'll be able to buy for your character. Good news: They're glorious.
And then, to top it all off, Nintendo unveiled Off the Hook, a fashionable pop duo consisting of the wacky, endearing characters Marina and Pearl.
Splatoon 2's clothing options are spectacular
The whole aesthetic of Splatoon 2's clothing options can basically be described as athleisure-hipster-punk mixed with graffiti street art — and some scuba gear thrown in for good measure, of course.
And, according to the Nintendo Direct, you'll be able to swap out your clothing, called "gear," by visiting one of the many shops in Inkopolis — all of which have spectacularly punny names.
For example, there's Headspace, the hat shop owned by an absent-minded, Professor Trelawney-esque squid, a clothing store owned by Jelfonzo the Jellyfish and Shella Fresh — Shella Fresh — a shoe store owned by a crab named Bisk.
Yep. Let those puns wash over you. I'll pause for groans.
Technically, each piece of gear also has various stat benefits, but really, that's entirely irrelevant here. What really matters is whether the stripes on that boatneck sweater go with my new tights. Or, wait, maybe those shorts instead?
Splatoon 2's Marina and Pearl are the fashionable pop duo I didn't know I needed
Then, at the end of the presentation, Nintendo unveiled Marina and Pearl, a pop duo powerhouse with serious style.
OK, look, am I going to be downloading "Ebb and Flow" on iTunes? Probably not. But you can't deny these ladies look killer. Those massive zippers are bold.
Between the punny shops and litany of clothing options for my player character, it's safe to say I'm a lot more excited for Splatoon 2 than I was before.
Splatoon 2 will be available July 21 for Nintendo Switch.
More Splatoon 2 coverage
Read more of our Splatoon news and coverage, including our impressions of the open beta back in March and at the Nintendo Switch event in January. Find out everything we learned about the game back in January. If you're looking for more information about the April 2017 Nintendo Direct, check out the proceedings here. Or if you want to check out general Nintendo Switch news see reports of screen defects in the Switch and what you can expect if you're trying to buy one.