'Pokémon Go' Anniversary 2017: Trainers share their favorite PoGo memories on Twitter and Reddit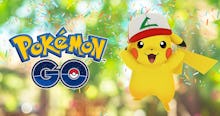 Thursday marked Pokémon Go's first birthday, and Niantic celebrated the day by announcing a new Anniversary event — complete with Pikachu wearing a familiar hat — while continuing to promote the live event coming to Chicago later in July.
A year is a long time in mobile game lifespans and players have taken to social media to reminisce about the good and not-so-good in Pokémon Go's first 365 days.
Pokémon Go anniversary event: 12 months of memories
It all started when the official Pokémon Go Twitter account asked players for their favorite moments in the game's first year.
Some of the results were amusing, like a player who found a Dragonair in a very interesting location.
Others were snarky, like Pokémon Go Malaysia reminding us that not everyone got to play Pokémon Go when it was first released.
Some just made jokes at the expense of Team Instinct:
On popular Pokémon Go subreddit, the Silph Road, players also sharedmemories from early in the game's history. Some reminisced about using unusual Pokémon like Slowbro to hold gyms, or the early days when a 1500 CP Exeggutor holding a gym was an impressive sight.
A lot of people said they missed the sense of community many felt in the during the game's first few months. Trainers recalled seeing hundreds of people heading to the park and catch Pokémon, or how a bug in your settings when the game was released would alert everyone that you were playing when you logged out.
"The game was so different when it first released to where it is now," wrote Silph Road user cb325 wrote. "I remember that literally everyone was playing. Cars randomly stopping on the street and you knew they were catching Pokémon. Our local hot spot would have hundreds of people even after midnight grinding stops and catching ... We have come a long way and I still love this game!"
Hopefully, the upcoming live events will continue to foster a sense of community for the game as it heads into its second year. For right now, it's amazing how far the game has come in such a short time.
More Pokémon Go news, updates, tips and tricks
Raids are here! See why they may be the key to legendary Pokémon. Find out how to determine how long it will take you to reach level 40, and see what we think of the Gen 2 Pokémon added to the game. Here are the kinds of Pokémon you get from 10-kilometer eggs, and here's where you can check out what you missed during the Water Festival and Solstice events. Find out more about the upcoming Chicago event and why you'll probably be able to catch Unown while you're there — if you're not busy searching for rare evolutionary items, that is.