The U.S. denied visas for student robotics teams from Afghanistan and the Gambia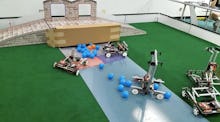 Two student robotics teams will have to watch their inventions compete over Skype because the United States denied their visas.
One is an all-girls team from Afghanistan, the other a team of five teens from the Gambia. Both of their robots — which are ball-sorting machines — will be shipped to Washington, where the First Global robotics event will take place on July 16 through the 18. The students will watch remotely — First Global president Joe Sestak said in a Facebook post that they "would 'Skype' in their teammates still in Afghanistan on the big screen inside the Hall so everyone can see them watching us, as we are also able to watch them."
"No one knows about the future but ... we did our best and we hope that our robot could get a position along other robots from other countries," 14-year-old Fatemah Qaderyan, part of the Afghanistan team, told Reuters.
"They put in so much effort into building this, and now, after all the sacrifice and energy they put in, they have been left disheartened," Moktar Darboe, director of the Gambia's ministry of higher education, research, science and technology and also the team's mentor, told Al Jazeera.
The robotics team from the Gambia was the second team to be denied entry into the U.S. — neither team comes from the list of countries included on President Donald Trump's travel ban. Sestak noted that as of July 2, 156 teams had received approval to participate in the competition and that six nations still had their visa interviews to go.
The U.S. Embassy and a U.S. State Department spokesperson would not provide a comment on the individual cases to Al Jazeera or Reuters when reached for comment.
"We were only told that we did not qualify and that we could try again," Darboe told Al Jazeera, adding that each student had to pay $170 for the visa application. "Their parents had to sacrifice a lot to pay this fee."