Walter Shaub, director of the Office of Government Ethics, steps down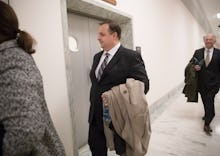 The head of the federal Office of Government Ethics announced his resignation Thursday, half a year before his term was set to end.
"The great privilege and honor of my career has been to lead OGE's staff and the community of ethics officials in the federal executive branch," Walter Shaub Jr. wrote in a brief-but-pointed resignation letter he shared on Twitter.
"They are committed to protecting the principle that public service is a public trust, requiring employees to place loyalty to the Constitution, the laws and ethical principles above private gain."
In an interview with the Washington Post, Shaub said he had not been forced out by anyone in the Trump administration, with which he has tangled.
"But the ethics chief said he felt that he had reached the limit of what he could achieve in this administration, within the current ethics framework," the Post reported, quoting Shaub as saying, "It's clear that there isn't more I could accomplish."
Shaub will join the Campaign Legal Center, a non-partisan group that specializes in cases involving voting rights, campaign finance and other policy issues, as senior director of ethics.
The Center welcomed him on Twitter shortly after he published his resignation letter.
In a post on the website of the CLC, Shaub said he'd "had the honor and privilege of serving the American public at the U.S. Office of Government Ethics under three presidents — George W. Bush, Barack Obama and Donald Trump."
While working with the Trump administration, Shaub said, "It has become clear to me that we need improvements to the existing ethics program. I look forward to working toward that aim at Campaign Legal Center, as well as working on ethics reforms at all levels of government."
The Post noted Shaub had become something of a folk hero among Trump opponents for his ethics criticisms of the administration: "Fans started a Facebook page in his honor, and his name has occasionally appeared on posters at anti-Trump protests."
July 6, 2017, 1:29 p.m.: This story has been updated.