Gov. Mark Dayton asks for police training fund to be named after Philando Castile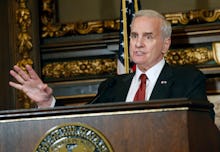 On the anniversary of Philando Castile's death, Minnesota Gov. Mark Dayton recommended that the state Peace Officer Standard and Training Board name a new $12-million training fund after Castile.
The fund, which was approved by the legislature earlier this year, is aimed at providing training opportunities for law enforcement officials working with diverse communities and will be distributed to police departments across the state.
In a press conference Thursday, Dayton explained that this fund honoring Castile would hopefully foster better relations between police officers and surrounding communities.
"I believe it is imperative that the leaders in our state's ever-more-diverse communities and in their law enforcement organizations commit — or recommit — themselves to making changes that will lead toward better relationships among law enforcement officers and members of [diverse] communities," he said.
Dayton also named Clarence Castile, Philando's uncle, to one of three appointments on POST's board, which regulates training programs and licenses police officers. Philando's mother, Valerie Castile, also spoke out at the conference saying that this fund is a step in the right direction.
"We need this extra training for our police officers," Castile said. "Because at the end of the day, everyone wants to go home. The police wants to go home and the civilian wants to go home. And if we can combine our minds and work together as human beings, then that will happen."
Castile's fatal shooting by an officer in July 2016 sparked protests that lasted throughout that summer. The governor once called the fatal shooting "one of the most traumatic events" that has happened during his time as governor.