'Overwatch' Doomfist Origin Story: Blizzard unveils Talon leader in new animated short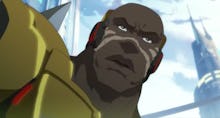 The Overwatch team has finally unveiled the long-rumored character Doomfist — and he's on the public test realm right now.
While that patch downloads, you'll want to check out the short, animated cartoon Blizzard released that delves into Doomfist's backstory. In it, you can watch him literally punch his way out of his prison cell with his bare hands.
Overwatch Doomfist animated origin story
Overwatch Doomfist developer update
In addition to the short cartoon, Blizzard also released a developer update video in which Overwatch director Jeff Kaplan explains Doomfist's backstory as one of the leaders of the terrorist organization Talon.
According to the video, Doomfist believes in making humanity stronger through conflict and war — a sort of forced "survival of the fittest" situation, if you will.
More Overwatch news and updates
For more on Overwatch, check out the rest of what Mic has to offer. Here is an intro to the cute, new "Wholesome Overwatch" subreddit, a look at some gorgeous Overwatch-themed PS4 and Xbox One controllers, a cool Easter Egg in the new Horizon Lunar Colony map and a criticism of Blizzard's failures in its design of Symmetra.