'Destiny 2' Open Beta Dates Trailer: When will early access launch and what will be available?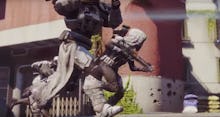 The Destiny 2 open beta will be coming even sooner than we thought. We haven't yet gotten all the details on what it will offer, but we know there'll be at least one multiplayer strike available — as well as the first campaign mission and whatever the Destiny 2 form of the Crucible competitive multiplayer mode will be.
PS4 players who pre-order can access the Destiny 2 open beta beginning July 18; Xbox One pre-ordering players can do the same on July 19. Those who don't pre-order will get a chance to play when the beta opens to the public July 21. Unfortunately, PC players will have to wait until sometime in late August for their Destiny 2 open beta.
More gaming news and updates
Check out the latest from Mic, like this essay about the sinister, subtle evils lurking in rural America that Far Cry 5 shouldn't ignore. Also, be sure to read our review of Tekken 7, an article about D.Va's influence on one Overwatch player's ideas about femininity and an analysis of gaming's racist habit of darkening villains' skin tones.