After CNN, the far right is declaring open season on journalists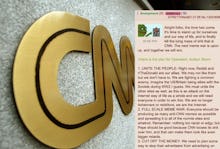 One look at the rankings listed on the World Press Freedom Index, and it's easy to see the dire state of free speech around the globe. Scroll to the bottom of the rankings, and there's the star lineup of authoritarian regimes where journalists fear for their lives just for doing their jobs: North Korea, Syria, Saudi Arabia and the Sudan, for example.
But the U.S. government need not launch a totalitarian crackdown on the press. Members of America's conservative fringe is doing that work at the grassroots level.
The online far right has declared war on individual journalists and their privacy after CNN tracked down the identity of a right-wing meme-maker. Though CNN didn't reveal the memester's identity, alt-right celebrities are leading a brigade of 4channers and Twitter's most virulent trolls on a new mission: making journalists afraid to do their jobs.
The outrage began over a CNN article about a middle-aged man who created a video of President Donald Trump wrestling a man with the CNN logo superimposed over his face. One of CNN's top political reporters tracked down the meme's creator, publishing a story about his racist history and investigating how fringe memes make their way to the highest office in the land.
And then there was a disclaimer. CNN said it would protect the meme-maker's identity, but "reserved the right" to publish the identity later if the person — who apologized, deleted his racist posts and asked CNN not to name him — continued their endeavors. Conservatives immediately claimed this was blackmail, with Donald Trump Jr. leading the initial charge.
It didn't matter that CNN still hasn't revealed the individual's name, that the meme-maker agreed with CNN's conditions or even that he wasn't, as the president's son erroneously claimed, a "15 year-old." Mike Cernovich, a conspiracy theorist famous for peddling the "Pizzagate" conspiracy and selling self-help e-books, began tweeting and publishing veiled threats against CNN and other media outlets.
The online alt-right is answering Cernovich's call on 4chan. As they've done in the past with websites that have published stories unfriendly to the far right, 4chan trolls have posed elaborate instructions on how to strike back at CNN and individual, lower-level journalists with the purpose of making journalists across the country afraid to report.
"Discredit every journalist at CNN," one user wrote in a since-deleted post. "No mercy on them. By seeings the shitstorm we are about to bring onto CNN, hopefully other [mainstream media] outlets will correct themselves."
Along with the call to action, 4chan users posted lists of major CNN advertisers alongside links to CNN's feedback page. Every so often, a new meme dump begins, and users start pouring in memes of CNN reporters — or just the network itself, represented by the logo — being shot, killed, gassed and attacked.
Cernovich is also expected to launch a new site with the purpose of attacking, doxxing and exposing individual journalists. In May, he told the Daily Caller, "The American press no longer behaves properly, and they need to be held to account." In response, journalistic outlets are tightening security, and journalists with public profiles are increasingly keeping their private lives away from social media.
The Trump administration is taking full advantage of the far right's war on the media. After conservative infiltrator and dirty trickster James O'Keefe released secret recordings of a low-level CNN producer talking off-handedly about CNN's Russia coverage, Trump's re-election campaign used the footage as part of its fundraising drive for the 2020 campaign season.
The message from the White House isn't so far removed from that of Cernovich's. Trump has repeatedly called the media "fake," even going so far as to anoint it "the enemy of the American people." And it's left up to journalists to defend themselves and their profession. After White House deputy press secretary Sarah Huckabee Sanders asked viewers to seek out O'Keefe's footage, it was Playboy's White House correspondent who spoke up in defense of the press.
"What you just did is inflammatory to people all over the country who look at it and say, 'See, once again, the president is right and everybody else out here is fake media,'" he said. "Everybody in this room is only trying to do their job."