Can your dream wedding cost less than $10K? 5 hacks to save money on venues, dresses, cakes and more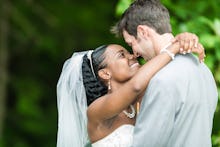 It's officially wedding season. That means it's also wedding planning season, given that ceremonies can take a year or more to map out: The average engagement now lasts 15 months, according to the Knot.
If you're thinking about getting hitched any time soon, the first question you're probably asking is, "How can I save money while still keeping it classy?" After all, the average cost of getting married is staggering, now more than $35,000, according to the Knot, not including a honeymoon.
That includes an average dress price of more than $1,500. And, while median prices are more reasonable, you'll still likely end up paying more than you want to — particularly in a pricey spot like Manhattan: The Knot says average costs there can be more than $78,000. "Couples [are spending] more per guest to create an unforgettable experience for those closest to them," Kellie Gould of the Knot said in a press release. "From invitations to the reception band, couples are spending more to put their personal stamp on every detail."
No surprise, then, that tech professional Sarah Schacht published an article on Medium last year titled "Happy Bride: How I Dumped the Wedding Industry" about planning her nuptials on a budget of less than $10,000. The post went viral, and Schacht, who has worked in events planning, says she is now writing a book about how to think about saving for a wedding. She has also given a talk — video embedded below — in which she discussed how aggressive the "wedding industrial complex can be," noting she received critical and defensive comments like, "Your guests will get food poisoning, because you're so selfish," and "We charge more because brides expect perfection and flip out if they don't get it."
Feeling determined to make your day special — but not destroy your credit in the process? Mic spoke with Schacht and reviewed other expert advice to find out how to break the mold a bit and plan a wedding that actually works for you and your budget. These five moves will save you serious coin.
1. Get a great wedding venue deal
Choosing a venue is the one part of the wedding you'll want to think longest and hardest about. According to the Knot, the wedding venue is the most expensive part of the wedding, with an average cost of more than $16,000.
The key to saving on your venue is doing your homework and picking your battles. You might be surprised: If you think getting married at home will save you money, the Knot warns it may not.
"Between rentals on everything from tents to portable toilets, creating an event where they usually aren't hosted (whether it's a home or a bare-bones space) costs a lot more than a traditional venue," Amy Levin Epstein writes. And contrary to popular belief, you can actually have a destination wedding for a reasonable price — if you just keep everything in the same space. Focus on choosing a site "that can do double-duty for your ceremony and reception."
"Not only will you save on venue fees, you'll also cut costs on transportation and possibly flowers," Epstein writes. Those costs can climb to up to $4,000, according to Jennifer Stiebel of Soco Events in Washington, D.C.
Schacht says she saved money by booking two adjacent venues for her wedding — an antique shipyard on Lake Washington with sweeping views of the Seattle skyline, and a docked Edwardian ship that holds two dozen guests. These two venues served as makeup and staging area, wedding and reception place, after-party venue, wedding night stay and Sunday brunch spot.
Booking the venues also allowed her to save on decorations, which she argued was the most superfluous expense most weddings incur.
"I think that brides obsess over decoration ... instead of finding a venue that has natural beauty or interest built in," Schacht said. "I could have gone and rented a $10,000 venue, which would have cost an additional $10,000 in catering, and then would have to have decorated to make it feel like it had character and not just another wedding hall."
Other couples may save money by renting out a large home or lodge that can handle both a wedding ceremony and overnight stays for guests. Wedding-Spot.com has a huge inventory of wedding-ready homes that can be sorted by budget — ones that can be had for just a few thousand dollars a night.
Weddings at state parks are also increasingly common. "They are perfect for outdoor ceremonies and breathtaking receptions," says ProEventDecor.com, though they note you might decide to spend a bit extra to transform the space. Farms, barns and ranch weddings also increased from 2% in 2009 to 12% in 2016, according to the Knot, while historic buildings and homes rose in popularity from 9% in 2009 to 13% in 2016.
And of course, you can always get hitched at the county court — a practice that's becoming increasingly common among millennials.
2. Save on wedding dresses or tuxedos
Schacht says she decided to spend a relatively small percentage of her wedding budget on her dress, just $400, and splurged just a bit on what she truly wanted: a Mexican-style floral crown by Ashley Nell Tipton from Project Runway, which cost around $200. "I didn't get get the $8,000 ball gown, but I loved the way I looked and what I had to wear," she said. "I chose things that felt authentic to me."
Indeed, being flexible and creative can net you big savings. Camille Wyn of the Dress Theory in Nashville, Tennessee, suggests shopping during a designer trunk show to net hundreds in savings. "Some salons will even throw in complimentary customization like a neckline change, size adjustment, or veil, which could be another $150 to $800 in savings," Wyn writes.
And if you are open-minded — and not superstitious — you could save even more: Sites like Nearly Newlywed, Still White and PreOwned Wedding Dresses sell sample and (lightly!) used designer gowns for up to 90% off.
There are fewer secrets for saving on tuxedos, other than simply leaving enough time to shop around and find the best deal on exactly what you're looking for. Still, you may be able to find coupons or discounts on sites like RetailMeNot. Thinking about renting a tux? MoneyCrashers recommends package deals. "Try renting all the tuxedos needed for your wedding together to see if you can get a discount for multiple rentals. Ask if there are wedding packages for renting the groom's, the groomsmen's and the fathers' tuxedos."
But if you plan to go to many weddings over the next few years, experts advise buying a tuxedo outright. There are a wide array of price points represented here. Used ones at places like MyOwnTuxedo can cost considerably less.
3. Perfect your wedding date timing
The first move to consider is not having a wedding during "wedding season," which are typically the summer and early autumn months.
"Each region's climate determines wedding seasonality: Summer months in the Midwest, South and Southwest are off-peak and more economical because fewer people want to deal with scorching temperatures and humidity," Heather Lee writes for Brides. May and October can be peak months in the Midwest.
Another matter to consider is the day of the week. While you might lose a few guests, having the wedding on any day but Saturday will likely save you hundreds of dollars at a minimum — in part because rates for locations like hotels are cheapest Sunday through Thursday.
"A Friday wedding will save you thousands on the venue and on your weekday rehearsal dinner," says Reese Rowe of Herban Feast Catering and Events in Seattle. "Even better: a Sunday wedding."
She notes that site fees can be as much as $4,000 less, and you'll likely save on food and beverage minimums. And don't worry about committing a faux pas by skipping on a Saturday date: Since many Jewish weddings necessarily occur on Sundays, you'll be in good company.
Schacht said she ended up having to move her wedding up several months due to an ill loved one, a potential cost she helped offset by using TaskRabbit to staff and manage the wedding. While these workers won't strictly be professional, and you'll have to pay them for extra for prep and training time, they still provide more flexibility and savings than booking a wedding manager months or even a year in advance.
Even time of day can affect pricing. As BrideBox notes, breakfast and lunch are cheaper than dinner, and guests are less likely to get sloshed during the day, which will lower your alcohol bill. A day ceremony can also mean avoiding a meal altogether and cutting to a simple cake and champagne reception. "By carefully choosing the time of day and type of reception you'll have, you will be able to spend a fraction of the cost on your wedding."
4. Slay the little wedding costs that add up
There are a few areas in which you clearly must make tradeoffs between cost, quality and quantity: Those include music, invitations, food and drinks. Here you will have to make a choice about whether you want a DJ versus a live band (or just a Spotify playlist), paper versus online invitations, an open bar versus a more low-budget solution (think kegs) and a wedding caterer versus a general caterer — or more of a DIY situation.
Luckily, there are tons of ways to defray costs, and they don't all require you to rely on free musical performances, cooking help, or makeup sessions from talented friends or family: though that can always help, too!
Schacht leaned into the fact that her husband is French, saving hundreds or even thousands of dollars on a wedding cake — usually calculated by slice and costing north of $400 — in favor of a traditional French wedding pastry tower known as a croquembouche.
Indeed, the wedding cake is being increasingly replaced by things like a cupcake tower (less than $200 for Molly's Cupcakes), donut towers and even s'mores stations.
As for alcoholic beverages, there is an in-between solution for those who want to offer guests an open bar but don't want costs to spiral out of control. One poster on WeddingWire.com said they bought a set number of cases of wine and beer kegs to be served up by a bartender; but once that was all gone, guests could still pay for what they wanted at the bar.
Here are other miscellaneous wedding cost-saving tips, from a page compiled by Brides.com:
• Try a buffet, to avoid the cost of servers
• If you're getting married in the city, find a caterer based in the suburbs whose transportation costs will still be cheaper than a downtown caterer.
• Hire college or grad students majoring in music to play at your ceremony
• Instead of a photo booth, just hand out a bunch of Polaroid cameras
5. Remember the big picture
According to Schacht, the best framework through which to plan a wedding is common to all big events: managing guests' expectations. If friends or family are obsessing on Pinterest over the perfect shade of roses, she says, "It becomes hard for you to make compromises, or more level-headed decisions."
"You really need to sit down with your fiancée and decide what do you really want and need, and what do you feel like is an [outside] expectation you have that might be hard to meet within your current budget," Schacht said.
After all, if you manage expectations by broadcasting to friends and family the plan for the day through your invitations and wedding website, most guests won't even notice the choices you make that involve cutting costs. "It becomes a much easier process of separating what people tell you you need, from what people actually want," Schacht said.
So first prioritize what's important to you — splurging more on the food or music and spending less on the venue, for instance — and you'll save money, while still being true to yourself, your partner and your relationship.
Sign up for the Payoff — your weekly crash course on how to live your best financial life. Additionally, for all your burning money questions, check out Mic's credit, savings, career, investing and health care hubs for more information — that pays off.