The 6 biggest questions going into Donald Trump's meeting with Vladimir Putin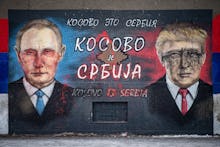 For the first time since he ascended to the White House, President Donald Trump will come face-to-face with Russian President Vladimir Putin on Friday at the G20 summit in Hamburg, Germany.
World leaders attended the summit are expected to mostly focus on the nuclear threat posed by North Korea, but Trump's first sit-down with Putin will also draw significant attention. Trump drew criticism on Thursday for refusing to say whether Russia was solely behind the hack to influence the 2016 presidential election — a conclusion U.S. intelligence agencies have made clear.
Here are six questions we have before Trump and Putin come face-to-face:
1. Will Trump say this is the first time he's met Putin?
Before his presidential run, Trump said he had spoken with Putin after the Miss Universe pageant, formerly a Trump property, was held in Moscow. He's tweeted about the Russian president dozens of times, typically to critique former President Barack Obama. CNN reported Trump has claimed to have "spoken to, met or made contact with Putin" at least nine times since 2013.
When he began his presidential run, Trump changed his tune — saying he had never met or spoken with Putin. One thing is for sure: Trump has spoken with Putin at least once by phone since he became president. This will be their first in-person meeting since Trump's inauguration.
2. Will Trump offer praise for the Russian president?
Trump has repeatedly praised Putin for his strongman leadership of Russia and smart handling of global affairs. Putin's track record includes mysterious deaths of members of the opposition, quelling dissent, jailing journalists and other human rights abuses.
Trump has made a habit of praising authoritarian leaders, like Filipino President Rodrigo Duterte and Turkish President Recep Tayyip Erdogan, as U.S. relations have become strained with more traditional allies like France and Germany.
3. Will the matter of U.S. sanctions against Russia come up?
U.S. sanctions against Russia have been a pressure point for the young Trump administration. Former national security adviser Michael Flynn was fired for lying to Vice President Mike Pence about a sanction-related phone call he had with the Russian ambassador prior to Trump's inauguration. Trump's team reportedly explored rolling back some U.S. sanctions on Russia, but never followed through.
In late June, the U.S. Treasury Department renewed sanctions on wealthy Russians and companies, drawing the ire of Moscow. A bill that would prevent Trump from rescinding sanctions against Russia without congressional approval passed the Senate the same month, but has since slowed in the House. Democrats say Republicans stalled the bill's passage to prevent Trump from signing it before his meeting with Putin.
4. Will the presidents address North Korea?
The hot topic of global diplomacy is North Korea's nuclear missiles. After North Korea tested a missile that experts believe could detonate a nuclear warhead over Alaska, the U.S. has ratcheted up its threats against the isolated country.
Putin and Chinese President Xi Jinping have backed a proposal of de-escalation and negotiation between North Korea and South Korean-aligned allies, including the U.S. Trump has yet to signal whether he's interested in negotiating with North Korean Supreme Leader Kim Jong Un.
5. Will Trump and Putin reach any deal that could impact the war in Syria?
With nearly half a million people killed by fighting in Syria, the six-year-long civil war has become a black mark on the conscience of world leaders. Right now, the U.S. backs the Syrian rebel fighters, while Russia supports the Syrian government. All sides fight the Islamic State, though Russia has also aided in governmental attacks on rebel groups. The proxy war has no end in sight, particularly with the U.S. and Russia backing sides with antithetical end goals. (The U.S.-backed rebels want Syrian President Bashar al-Assad removed, while the Russians want him to remain in power.)
In the past, Trump has talked optimistically of working with Putin to resolve the Syrian conflict and fight the Islamic State. Friday's meeting will be an opportunity for Trump to make good on that goal.
6. Will the presidents address the Russian hacking scandal?
It's doubtful, but neither of these leaders are predictable. And Russia's interference in the 2016 election was an unprecedented attack on American's democratic infrastructure, as recognized by leaders of both political parties in the U.S.