'Rocket League' 1.35 Patch Notes: 2-year anniversary update brings new items, a map and more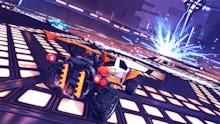 If you can believe it, Rocket League is two years old this summer. Yes, it's actually been two whole solar cycles since the car soccer phenomenon took the world of video games by storm. To celebrate, developer Psyonix has released version 1.35, a patch that brings plenty of anniversary goodness to the table.
Rocket League update 1.35 brings new map, items and more
Despite the occasion, 1.35 isn't an enormous update by any stretch. The full patch notes can be found on the game's website, but keep reading for the highlights.
The biggest addition is Champions Field, a free new map to play on. It's another sports arena environment that fits the general tone of Rocket League. More maps are always welcome.
You can now customize the sound of your car's engine as well as the trails your tires leave behind the car. Most fun is the addition of customizable goal explosions. The explosion from scoring a goal in Rocket League is one of the most singularly satisfying moments in gaming, so being able to change how it looks is cool.
This update also marks the end of season 4 and the beginning of season 5, for those of you who care about the competitive side of Rocket League. Lastly, you can now get Rick and Morty customization items from drops after matches, because of course you can.
More gaming news and updates
Check out the latest from Mic, like this essay about the sinister, subtle evils lurking in rural America that Far Cry 5 shouldn't ignore. Also, be sure to read our review of Tekken 7, an article about D.Va's influence on one Overwatch player's ideas about femininity and an analysis of gaming's racist habit of darkening villains' skin tones.