The 'Once Upon a Time' cast additions just gave us a major reason to tune in for season 7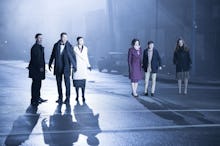 Once Upon a Time has always delivered strong female leads. Ginnifer Goodwin's Mary Margaret introduced a badass side to Snow White, while Jennifer Morrison's Emma Swan became the savior of a small town of fairy-tale characters. These women, though flawed, brought some serious girl power to the ABC series. So, when the network announced that Goodwin and Morrison — along with two other powerful female actresses on the show — would be departing, we were definitely concerned about the series' fate.
We're not out of line in saying that interest in the drama has decreased since its 2011 premiere. While the show averaged 9.92 million viewers over its first season, the numbers waned as the series progressed. Season two brought in an average of 8.46 million viewers, but the recently concluded sixth season dropped to an average of 3.15 million viewers. The series was in jeopardy of being canceled, which wouldn't have come as a shock. Despite these characters whom we watched grow over the past six years, the show was in a rut. It was "Emma fights the big bad" on repeat. That's why a new casting announcement has renewed our hope in the series' future.
On Thursday, it was revealed that Devious Maids alum Dania Ramirez and former Burn Notice star Gabrielle Anwar would be joining the cast as series regulars in season seven. Mekia Cox of Secrets and Lies, Rose Reynolds of Wasted and Adelaide Kane of Reign are some other new faces who will be appearing as recurring characters come fall.
Now this is something we can get behind. Not only has the series brought on five actresses to replace the departing cast members, but they've introduced some diversity, which was definitely lacking in earlier seasons.
Ramirez is a Latina actress who was born in the Dominican Republic. She'll be the second nonwhite full-time cast member on the series, next to longtime cast member Lana Parrilla, who is half-Puerto Rican. The question now is who Ramirez will play — and one theory is she'll be the mother of Lucy, Henry Mills' daughter.
Lucy, played by child actor Alison Fernandez, was introduced in the season six finale as Henry's mysterious daughter. He had no recollection of her, but she arrived at his door holding the Storybook and asking him to help his family. Fans were left wondering what happened to Henry and the identity of Lucy's mother. There was some speculation the series would be introducing recent Disney character Moana, but that theory was seemingly shut down by executive producer Adam Horowitz (not to mention that Fernandez is Latina, not Polynesian).
No matter who Ramirez and the rest of the new cast end up portraying, the series is moving in the right direction. We're down to give this reboot of Once Upon a Time a chance.
Once Upon a Time returns to ABC on Fridays this fall.