Women aren't allowed to wear sleeveless tops in the House chambers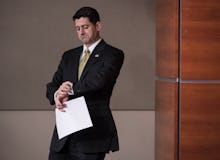 Women's shoulders are apparently a contentious issue in the House. According to CBS News, a female reporter was trying to enter the speaker's lobby, a secured area outside the House chambers where reporters often gather for interviews, when she was told her dress wasn't appropriate for entry.
The crime? Her dress was sleeveless.
In an attempt to get her outfit up to snuff, the unnamed woman reportedly "ripped out pages from her notebook and stuffed them into her dress' shoulder openings to create sleeves," CBS reported.
Despite the resourcefulness of her solution, it didn't help. A nearby officer "tasked with enforcing rules in the speaker's lobby" told the reporter her dress — paper sleeves and all — was still unacceptable.
Though there's always been a House dress code, its vague nature has left it open for interpretation, particularly in terms of how it applies to women. Historically, what is or isn't "appropriate" dress for women has been left up to the House speaker himself — in this case, Speaker of the House Paul Ryan.
Ryan made it a point to reiterate his dress code standards in June, reminding House representatives to "periodically rededicate themselves to the core principles of proper parliamentary practice."
"Members should wear appropriate business attire during all sittings of the House however brief their appearance on the floor may be," he added.
CBS reported that the "appropriate business attire" Ryan mentions means nothing short of suit jackets and ties for men, and no sleeveless tops, sleeveless dresses, open-toed shoes or sneakers for women.
The unnamed reporter wasn't the first woman to run into trouble with dress code regulations. On the same day the House voted on the GOP's health care bill — which, perhaps worth noting, promised a looming disaster for women's health — Haley Byrd, a reporter for the Independent Journal Review, got into trouble for her own sleeveless dress. According to CBS, Byrd got kicked out of the speaker's lobby for her ensemble, even though she'd just been passing through.
"When I was kicked out that day, I was just trying to pass through the area to reach another hallway, but I was told I was violating the rules," Byrd said. "They offered to find a sweater for me to put on, so it wasn't some tyrannical end of free press, but I opted to just go around instead. "
Byrd said officers on patrol have recently been "cracking down on the code." With Washington, D.C., being situated in a hot swamp, it's understandable some brave women might dare to expose an inch or two of their shoulders in an effort to stay cool.
"I suspect the rules are being emphasized now that it's summertime and excruciatingly hot outside and everyone is dressing for the weather," Byrd said.
It sure is good to know the antiquated dress codes preventing teen girls from wearing tank tops and shorts in middle-school classrooms come June are the same ones at work in our government.