'WWE 2K18' Roster: 5 legends who should be in the game, but probably won't make the cut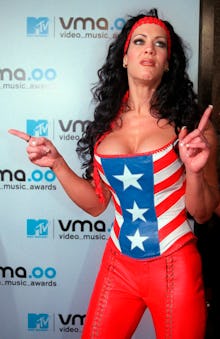 According to WWE 2K18 executive producer Mark Little, the game's roster will feature anywhere between 170 and 200 playable Superstars. This will include a good number of legends from the WWE, ECW and WCW. It's almost impossible to imagine the game including every wrestler fans want, but with a roster that large, it's safe to say many of gaps from previous years may be closed.
While 2K Sports may want to include some characters from the past, there are often factors outside of their control that prevent an all-inclusive roster. Below are at least five legends that would be great additions to the roster, but the chances of seeing them as playable characters likely range from slim to none.
Tony Atlas
As one of the most influential African-American professional wrestlers in history, Tony Atlas deserves a spot on the WWE 2K18 roster. He paved the way for so many who have come after him and he'd also be a fun character to control in the game.
Atlas, who was a power lifter, would certainly have a powerful moveset with a lot of throws and press slams. Those kinds of characters are always difficult to beat in the WWE 2K games.
Atlas, whose real name is Anthony White worked with the WWE as recent as 2014 when he was a cast member on the show Legends House. He was also inducted into the WWE Hall of Fame in 2006. It would appear the appropriate relationship exists to secure Atlas a spot on the roster.
Junkyard Dog
Junkyard Dog was an icon who carried a massive fan following with every promotion he performed and that notoriety peaked with the WWE in the 1980s.
Believe it or not, JYD has never been in a WWE 2K game. In fact, the last WWE video game he appeared in was Legends of WrestleMania in 2009. That's hard to believe considering how big of a star he is and how iconic of a figure he remains.
Sensational Sherri
Many wrestling fans know Sensational Sherri as Randy "Macho Man" Savage's valet, but she was one of the most well-known female performers during her days in the ring. She wrestled as Sherri Martel and Sensational Sherri and won multiple championships — including the WWE.
Sherri was inducted into the WWE Hall of Fame in 2006. She died the following year. She has been in two WWE 2K games, but only as a manager. As one of the pioneers of women's professional wrestling, Sherri's inclusion in a future WWE 2K game would be logical.
Nikita Koloff
Nelson Scott Simpson is not Russian, but he played the part for several promotions during his professional wrestling career that spanned almost 10 years. His ring name was Nikita Koloff, aka the Russian Nightmare, and he was a physical specimen and one of the most natural heels in the business.
His Russian Sickle finishing maneuver was one of the most devastating and well-executed moves in 1980s professional wrestling. Koloff never wrestled in the WWE, but the WWE owns the rights to the WCW's massive library of matches and content.
Perhaps there's room for negotiations, though we admit, this is longest of long shots. If we're being honest, Koloff fans will probably have to continue creating him in the game if they want to deliver Russian Sickles to opponents in WWE 2K.
Chyna
There is no more glaring omission from the roster of WWE Games than the absence of Chyna. The late Joanie Laurer changed professional wrestling with her look, athleticism and presence on camera. Chyna had well-documented personal and professional issues with the WWE brass, but no one can deny how impacting it would be if she were included in a WWE game.
Among the many honors Chyna received during her WWE career, she is the first and only female to hold the Intercontinental championship. If and when Chyna is ever announced as a playable character, expect the news to resonate positively with the fans who remember watching her perform during the WWE's notorious Attitude Era.
More sports gaming news and updates
Love sports games? Check out more content from Mic, including tips for leveling up your MLB The Show RTTS player, the new story mode in Madden 18, a wish for the WWE 2K18 release and a detailed sports video game release calendar.