Opioid prescriptions are down, but addiction experts say there's still progress to be made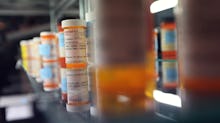 Prescriptions for highly addictive opioids fell in the United States between 2012 and 2015, according to new research from the Centers for Disease Control and Prevention. But the measured progress is still just a drop in the bucket for what has become the worst drug epidemic in United States history.
According to the July 6 report, even with the reduction, the amount of opioids prescribed in the U.S. in 2015 was still triple what it was in 1999. Anne Schuchat, the CDC's acting director, told the Washington Post that the statistic meant that doctors and health care providers will need to be even more conservative when it comes to handing out prescriptions for pain medications like Oxycodone.
According to Schuchat, even with the reduced number of opioid prescriptions that were doled out in 2015, there are still enough of the drugs in circulation to keep every American medicated 24/7 for three weeks.
"It looks a little bit better, but you really have to put that in context," Schuchat told the Post. "We're still seeing too many people get too much for too long."
Reducing prescriptions isn't a solution on its own
The overprescription of painkillers has long been linked to a rise in addictions to illicit street opioids like heroin and fentanyl, which are oftentimes much cheaper and easier to obtain.
Constance Scharff, a research director for Cliffside Malibu addiction treatment center in California, told Mic that while the dip in prescription opioids was a step in the right direction, it's still a long way away from a solution in its own right — and could produce incidental issues of its own.
"It indicates that we're paying attention to the problem, which is good, but as it gets harder to get a prescription, people are forced onto street drugs," she said in a phone interview. "So you are going to see a concomitant increase, I believe, in heroin use, and also on street drugs [like fentanyl] that people think are one thing and are actually something else."
"I think what's dangerous is for us to think that this makes a difference, because what it actually does is pushes people onto those street drugs," she said.
And without the proper access to treatment, Scharff added, no progress on the prescribing front will be sustainable in the long-term.
She pointed to the Republican-sponsored Senate bill to repeal the Affordable Care Act, which the Congressional Budget Office said would increase the number of people without health insurance by 22 million by 2026, as one of the greatest looming threats to addiction treatment in America.
"When you look at the government proposals, the Republican proposals for health care will decimate addiction treatment," she said. "What's in the Senate is unbelievable. Pulling back on Medicaid? That leaves the most vulnerable population — if they're going to access treatment, a lot of them are going to come either through insurance or through Medicaid."
She added that it's not enough just to try to reduce the number of prescriptions handed out. The people who are already addicted are often getting lost in the shuffle.
"I mean, it's great to say 'Hey, we shouldn't give out as many prescriptions as we do,'" she said. "But if you don't also address treatment for the people who are already addicted, who already have a substance abuse problem, then I don't know where you go from there. You're basically just waiting for them to die."
According to CDC data, 63.1% of the 52,404 drug overdose deaths in the U.S. in 2015 involved opioids. Of those opioid-related deaths, around 15,000 (about half) involved a prescription opioid.
Gary Mendell, founder of the anti-drug advocacy group Shatterproof, said in a statement that while the CDC's numbers are a good start, real accountability in measuring opioid prescriptions comes with making those numbers transparent.
"We need prescribing data to be released every quarter for every state and county, within 30 days of the end of each quarter," Mendell said. "This would quickly bring down the number of prescriptions to the proper balance of prescribed medications for those that need them, and eliminate those prescriptions made outside of the CDC recommendations.
But for Scharff, making sure that addiction treatment is accessible to more people remains the paramount solution.
"It's a challenge, it's difficult," she said. "Prescription drug monitoring programs and working with doctors and doctor training — I mean these are all really good things. But the genie's out of the bottle, and we have to look at treatment also to truly address the problem."