Ava DuVernay to direct Netflix mini-series about the Central Park Five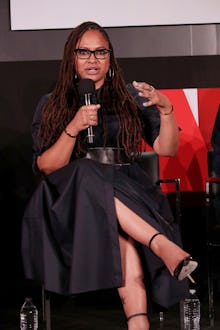 On Thursday, Netflix announced it will be working with director Ava DuVernay again for a special mini-series. DuVernay will direct a five-episode series about the Central Park Five set for release in 2019.
Each episode will focus on one of the five teenagers involved, spanning from their initial questioning in 1989 to when they were released and exonerated in 2014. It will also focus primarily on the criminal justice system and the role it played in the wrongful convictions. DuVernay took to Twitter to share the news.
The case of the Central Park jogger was a widely covered case. In 1989, a woman was brutally beat, raped and sodomized while jogging in Central Park. Soon after she was found, five black and Latino teenagers were arrested. Antron McCray, Kevin Richardson, Raymond Santana, Yusef Salaam and Kharey Wise were charged with assault, robbery, riot, rape, sexual abuse and attempted murder.
The teens spent between six and 13 years in prison. And although DNA evidence did not connect them to the crime, they were reportedly coaxed and threatened into implementing each other in the rape. The case gained even more attention in 2002 when serial rapist Matias Reyes admitted to committing the crime.
The New York Times called the attack "one of the most widely publicized crimes of the 1980s" while Donald Trump called for the attackers to be "executed for their crimes."
"The story of the men known as the Central Park Five has reverted me for more than two decades," DuVernay said in a Netflix press release. "In their journey we witness five innocent young men of color who were met with injustice at every turn."
In 2003, the five men sued New York City for malicious prosecution, racial discrimination and emotional distress. The city settled with the men for $41 million in 2014.