Why the #SitInSaveLives protest is an important step forward for opposition to Donald Trump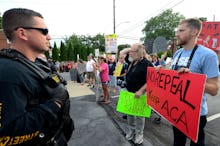 To fight the Republican health care bills, progressives are not assembling thousands of anti-Trumpcare demonstrators in cities across the country. This time, the approach is far more tactical.
With less than a week of planning, nine national progressive groups organized their local members to hold sit-ins in the home state offices of Republican senators. The goal: Convince on-the-fence GOP senators to cut ties with Sen. Mitch McConnell's health care bill — even if it means being arrested.
Demonstrators in Philadelphia were barred from entering Sen. Pat Toomey's office. Protesters in Oshkosh, Wisconsin, livestreamed for hours as they remained locked in a room at the office of Sen. Ron Johnson.
Progressive organization leaders said the use of nonviolent disruptive tactics like sit-ins is a natural but important next step for a movement committed to stopping President Donald Trump's agenda. Civil disobedience is also effective for raising awareness of progressive causes, activists said. In this case, that means promoting single payer, "Medicare-for-all" health care while attacking the Republican health care proposal.
Of the more than 1,000 people who participated in the sit-ins on Thursday, nearly fifty total were arrested at seven of those sit-ins, according to Diane May, communications director of Our Revolution, a grassroots organizing group backed by Sen. Bernie Sanders.
"Now is the time that people move from the large mass rallies to the targeted actions that disrupt the way people go about their lives."
"That is core to what we do — using the power of nonviolent action to shift the political weather," Kai Newkirk, mission director of Democracy Spring, said in an interview. A leader of an organization that has championed sit-ins since hundreds of its members were arrested in Washington, D.C. last year, Newkirk said Thursday's protests show the movement against Trump is embracing "nonviolent action and escalation — this is a good step."
Thursday's sit-ins are far from the first nonviolent, disruptive demonstrations against Trump. Groups participating in the #SitInSaveLives protest, like Democracy Spring and the Democratic Socialists of America, worked to disrupt Trump's inauguration. Sit-ins and other protests have focused on the home offices of senators and members of Congress for weeks.
David Duhalde, deputy director of the DSA, draws a clear distinction between sit-ins and other assemblies of dissent. "The Women's March and other mass marches, they weren't disruptive — they were more cathartic and unifying. The idea was to bring people together ... and to make people feel they weren't alone," Duhalde said. "Now is the time that people move from the large mass rallies to the targeted actions that disrupt the way people go about their lives."
The sit-ins are a marriage between groups used to applying "direct action" — the term used for protests that purposefully but nonviolently break the law — and more traditional grassroots groups. Newkirk said he proposed the sit-ins to Our Revolution about a week ago, which led to nine organizations quickly banding together. Thursday marked a level of national-to-local organization and coordination across progressive groups that activists said happened quickly and seamlessly.
Our Revolution supported the sit-ins after seeing people with disabilities arrested at McConnell's D.C. office, May said. "The images really moved people to get involved," she said. "Not everyone today is out to get arrested, but there's value to people showing up in the offices and making a bodily demonstration of their commitment to saving health care for millions and expanding health care eventually."
Organizers in Las Vegas took that approach. Eileen Eady, who runs Together We Will Nevada, said her group scheduled a steady stream of individuals to appear at the office of Sen. Dean Heller. Eady said having people show up every ten minutes from 9 a.m. to 5 p.m. guaranteed no one got arrested, but that the message was still delivered. "We want our action to keep them busy all day instead of being over in an hour," Eady said.
While these grassroots groups are targeting Republicans, they claim their views are not partisan. Democracy Spring organized nonviolent resistance at the Democratic National Convention. Organizers said they were just as focused on pushing Democrats to support single payer as pressuring Republicans to oppose their current bill.
These groups said they made no effort to organize the sit-ins in tandem with the Democratic party, nationally or at the state level.
"Men and women from across the country know this Republican bill is unconscionably cruel and are holding their elected officials accountable by showing up at their offices and demanding they vote no," Sabrina Singh, a Democratic National Committee spokeswoman, said in an email.
When asked whether the DNC would support sit-ins and other illegal disruptions, Singh responded: "We don't condone any violence."
Nita Chaudhary, co-founder of UltraViolet, said the focus on taking action in Republican states meant involvement from the Democratic party was not necessary. Her advice to Democratic leaders monitoring the effectiveness of the sit-ins: "They should be following leads, not trying to impress their preferred strategies or messages upon this space."