These shoe covers will keep your feet dry come rain or torrential downpour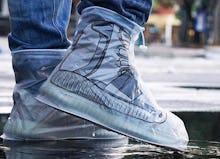 We've written about how rain boots suck. We've written about how umbrellas suck. But what generates even more of a shared universal hatred is the fact there is no easy solution to being faced with the horror of rain once you realize your shoes are simply not rain-proof.
That is, until maybe now.
Launched late in 2016, DrySteppers are like raincoats for your feet, little heavy-duty plastic bags that zip at the front and cinch at the ankle, meant to shield your entire shoe come mud, snow, rain or torrential downpour.
On the bottom there's a nonslip, increased-grip sole. As far as its appearance, DrySteppers come in clear and can also be printed with an image of a shoe you maybe don't have already — like the infamous Yeezy 750s or a Nike Air Jordan 4 Bred.
It is simply one of those products that is giving us a glimpse at how fashion may reckon with weather in the future, or at least how it's trying to.
Though, unfortunately, they do look like this:
However, the shoes themselves, which were reportedly created by sneaker aficionado Rich Franklin, have been gaining traction from several viral videos — one earning more than 12 million views and another earning 54 million views — featuring the covers. The videos have elicited hesitant responses from viewers, like "What's the point of wearing pretty shoes if they are 'that' covered up?" Other Facebook users have been more approving: "OK, so initially I thought these were stupid as heck but I thought a bit more — I'm a student, and for probably two months it will rain every day. ... It would actually be pretty nice to throw these on and just put them in a plastic bag during class time!"
So yes, to some, they could be considered too ugly to wear. And, yes, they could too closely resemble an actual plastic bag. But in 2017, to be honest, there really is no good alternative that we know of.
Ultimately, the real question for you is: Would you wear them? Would you wear these stylized plastic bags on your shoes for the sake of protecting them?
Mic has reached out to DrySteppers for comment.