Angry constituents descend upon senators' offices across the US to #SitInSaveLives for health care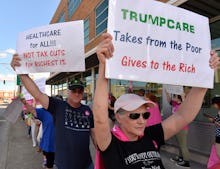 Activists and concerned citizens are holding protests and sit-ins the the offices of over 20 GOP senators across the country to voice their concerns about the Senate health care bill.
"We shouldn't have to wait for a catastrophe, we shouldn't have to wait until we're sick, we shouldn't have to wait until we're dying, we shouldn't have to wait until we have to go to a nursing home or get hit by a car," one Kentucky woman proclaimed loudly outside the Kentucky offices of Senate Majority Leader Mitch McConnell. "Health care should be for prevention and should take care of all of us."
Lead by a coalition of progressive movement organizations, protesters sat in hallways and outside office buildings for hours, chanting and singing that they would not leave of their own accord, until they got a chance to meet with their representatives. They posted footage of the events using the hashtag #SitInSaveLives.
"Activists [are making sure] senators must truly grapple with the constituents they are hurting in the name of enriching their benefactors," Dan Cantor, National Director of the Working Families Party, which helped lead protests around the country, said in an email. "In the end, Trump and the Republicans' attacks on health care will only serve to strengthen the resolve of millions of Americans to guarantee health care for all."
Responses varied across the country. Protesters in some states were quickly arrested and removed from the premises while others were allowed to stay.
By 5 p.m. Eastern, nearly 50 demonstrators had already been arrested across the country, according to Our Revolution Communications Director Diane May.
In Columbus, Ohio, protesters sat for hours while a series of aides and officials dodged questions about whether or not they would get to meet with Sen. Rob Portman (R-Ohio).
"The staff has been very politely stonewalling us for over an hour and a half," Nicole Butler a volunteer with the group Yes We Can Columbus said midway through the demonstration. "We're not planning on leaving until we get some answers."
Michael Lawlor, a resident of Flint, Michigan, who is covered under his state's Medicaid expansion, drove to Ohio to try and beseech Portman on behalf of his hometown. Over the past several years Flint has been plagued by a public health crisis that was the result of cost-saving measures by the state's Republican governor.
"Flint has been the recipient of a lot of federal aide through the Medicaid expansion and I'm extremely concerned that under this bill, [Flint] is in jeopardy," Lawlor said. "I've seen what happens when government stops caring about the health and well-being of its citizens."
In Texas, Derrick Crowe a progressive candidate for Congress was arrested outside Sen. John Cornyn's office.
Activists say that Thursday's protests are part of a bigger agenda to not only stop the Senate's health care bill, but also build a coalition that supports a Medicare for all, single-payer system. For now, protests and arrests are likely to continue through out the night.