Man arrested outside Sen. Jeff Flake's office for allegedly threatening to shoot staffer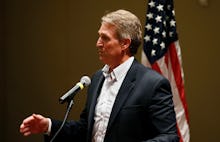 A 59-year-old man was arrested during a protest outside the Tucson office of Sen. Jeff Flake (R-Ariz.) for allegedly threatening to shoot a staffer Thursday, the Pima County Sheriff's Department announced in a press release.
According to Deputy Cody Gress, Mark Prichard was charged with threats and intimidation, a class one misdemeanor, for the alleged comments, which referenced the Virginia shooting last month that left House Majority Whip Steve Scalise severely wounded.
Prichard and another man, 70-year-old Patrick Diehl, also face charges of third-degree criminal trespassing, authorities said.
A spokesperson for Flake said in an email that Prichard had asked a staffer if he knew "how liberals are going to solve the Republican problem."
When the Flake staffer said "no," Prichard allegedly said that "they are going to get better aim."
"That last guy tried, but he needed better aim," Prichard said, according to the Flake spokesperson. "We will get better aim."
On June 14, James T. Hodgkinson — a 66-year-old Illinois man who had repeatedly railed against the GOP — opened fire on Republicans practicing for the annual Congressional Baseball Game at a diamond in Alexandria, Virginia. Scalise and several others were wounded in the incident; Scalise remains hospitalized and was readmitted intensive care on Wednesday night for an infection.
As of Wednesday night, he is reportedly in serious condition.
Flake was among those present during the shooting, which led to calls from both the left and the right to cool the nation's heated political discourse. He was uninjured in the shooting and reportedly helped treat both Scalise and a wounded aide.
A spokesperson for Flake declined to comment on the incident at the Tucson office Thursday, but said the "matter has been referred to the Capitol Police."
The spokesperson also said that the staffer who was allegedly threatened by Prichard went into the office after the exchange and called the Pima County Sheriff's Department.
When deputies arrived at the protest, Gress said in the release, staffers pointed out Prichard, who was then standing nearby but off the office grounds. When authorities informed him he was not allowed back on the property, Prichard "made it a point to step back onto the property after being told not to do so and was immediately arrested" on the trespassing charge.
Afterward, according to Gress, a staffer opened the office door to hand out informational packets to the protesters, at which point Diehl "tried to force his way" past the staffer and into the office.
Both were apprehended without the use of force and taken to Pima County Adult Detention Complex.
Progressive organizations on Thursday organized sit-ins at the offices of senators in 21 states, including at Flake's office, to protest the Republican health care bill.
"No violence occurred from the protest itself," Gress said in the press release.