New 'Mass Effect: Andromeda' Update 1.09: Patch notes include bug fixes and changes to multiplayer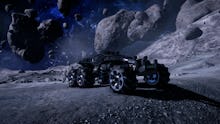 The latest Mass Effect: Andromeda update, version 1.09, is available for download now. In addition to a wide range of bug fixes and facial animation improvements in single player, there are several updates to multiplayer in the patch you should know about, too.
Mass Effect: Andromeda 1.09 multiplayer update
The newest update is mostly focused on multiplayer — for better or for worse. In addition to the existing difficulty modes, there's also a new "platinum" difficulty. This new difficulty mode will mix up enemies from all the different factions — so, instead of just fighting one enemy faction per match, you'll be fighting several at once.
There's also a new Batarian Scrapper character available in multiplayer This is significant since this is seemingly the first and only Batarian that made its way to Andromeda from the Milky Way galaxy. So, naturally, they gave him a gun and told him to risk the extinction of his species in the name of shootin' stuff.
Mass Effect: Andromeda 1.09 full patch notes
Mass Effect: Andromeda 1.09 full patch notes
• Various improvements to facial animations and cinematic scenes
• [MP] Platinum difficulty added
More gaming news and updates
Check out the latest from Mic, like this essay about the sinister, subtle evils lurking in rural America that Far Cry 5 shouldn't ignore. Also, be sure to read our review of Tekken 7, an article about D.Va's influence on one Overwatch player's ideas about femininity and an analysis of gaming's racist habit of darkening villains' skin tones.