Bill Cosby's new sexual assault trial has been scheduled for November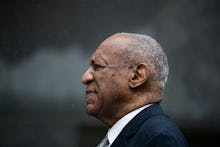 A judge has scheduled Bill Cosby's new sexual assault trial for November 6, according to NBC News.
Cosby originally stood trial for his alleged crimes against Andrea Constand in June, during which time a 12-person jury was unable to reach a verdict on whether Cosby had drugged and assaulted the former Temple University employee in 2004.
After more than 50 hours of deliberation, Judge Steven O'Neill declared a mistrial. In the immediate aftermath of the ruling, prosecutors announced plans to push for a retrial, making it clear Cosby would see another day in court.
However, the new November trial isn't the only upcoming court date on Cosby's calendar: Last month, a judge announced the disgraced actor and comedian would appear in court in July 2018 for allegedly assaulting a 15-year-old girl in 1974.