Virginia executes inmate who attorneys say was delusional at time of 2006 killings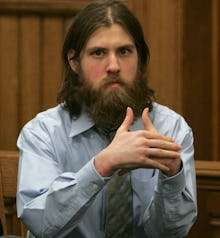 William Morva — the man convicted of killing a security guard and a sheriff's deputy in a 2006 escape from custody — was executed by the state of Virginia Thursday night, frustrating death penalty opponents who say he was delusional at the time of the killings.
Morva was being held on attempted robbery charges in 2006 when he stole a deputy's gun, shot security guard Derrick McFarland and escaped from a hospital where he was being treated for a hand injury. The next day, during a manhunt for Morva near the campus of Virginia Tech in Blacksburg, Virginia, he shot and killed sheriff's deputy Eric Sutphin.
He was sentenced to death for the killings in 2008 but was diagnosed after the trial with delusional disorder, which his attorneys said drove him to kill. Morva's attorneys, along with death penalty opponents and the daughter of one of the victims, appealed to Gov. Terry McAuliffe, a Democrat who says he personally opposes the death penalty, to halt the execution. But the governor allowed it to proceed, and Morva was pronounced dead by lethal injection at 9:15 p.m. Thursday.
He was 35.
Montgomery County Sheriff Hank Partin said in a statement Thursday that Morva had "made the decision" to kill McFarland and Sutphin in 2006, and that his execution will help the "healing process move forward."
But others, including the ACLU of Virginia, decried the execution as "more evidence that the death penalty must be repealed."
"We grieve with the families of Derrick McFarland and Eric Sutphin, as well as with Mr. Morva's loved ones," Claire G. Gastañaga, executive director of the ACLU of Virginia, said in a statement. "One tragedy does not justify another."
Sister Helen Prejean, an anti-death penalty activist, also spoke out against Morva's execution, tweeting that "a man who held clinical delusional beliefs that a government conspiracy was trying to kill him was killed by the government tonight."
According to NBC News, courts had rejected Morva's appeals and the Supreme Court had declined to hear his case. His attorneys — along with state legislators, members of the United Nations and the European Union — appealed to McAuliffe, who concluded that Morva received a fair trial.
"I personally oppose the death penalty," McAuliffe said in a statement. "However, I took an oath to uphold the laws of this Commonwealth regardless of my personal views of those laws, as long as they are being fairly and justly applied. Thus, after extensive review and deliberation consistent with the process I have applied to previous requests for commutation, I have declined Mr. Morva's petition."
Rachel Sutphin, one of the slain sheriff's deputy's daughters, was among those urging McAuliffe to halt the execution of her father's killer.
"I am against the death penalty for religious and moral reasons," she said days before the execution, according to NBC News. "I have fought and will continue to fight for clemency for all death row inmates until Virginia declares the death penalty unconstitutional."
According to the Guardian, Morva is the third inmate to be executed under McAuliffe and the first since the state changed its protocol to conduct part of the procedure behind a curtain. Critics say the protocol creates a lack of transparency, and they've raised concerns about the three-drug cocktail used in the execution.
"The execution of William Morva, a man with a severe mental disability, is appalling," Amnesty International said in a tweeted statement. "The death penalty should be ended once and for all."