McConnell says Republicans may have to fix the Obamacare markets they insisted were beyond repair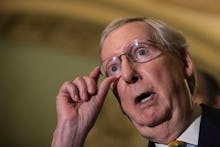 Senate Majority Leader Mitch McConnell (R-Ky.) admitted on Thursday that Republicans may have to fix the health insurance markets created by the Affordable Care Act if the GOP can't agree on a replacement plan, the Washington Post reported.
"If my side is unable to agree on an adequate replacement, then some kind of action with regard to the private health insurance market must occur," McConnell said at a Rotary Club event in his home state of Kentucky. "No action is not an alternative. We've got the insurance markets imploding all over the country, including in this state."
The admission blows a hole in McConnell and the Republican Party's seven-year insistence that the ACA — widely known as Obamacare — is "broken beyond repair."
"Obamacare is broken beyond repair," McConnell said in a news release in 2013. "The only 'fix' is full repeal followed by step-by-step, patient-centered reforms that drive down costs and that Americans actually want."
And it suggests that while Republicans promised for seven years that they had a better plan to provide health insurance in America, they are still far from legislation that makes good on that commitment.
It even blows up Senate Republicans' insistence that they were already making good on their promise before President Donald Trump was elected.
In a December 2015 video, Senate Republicans insisted the GOP Senate majority was already working to "keep its promises" to repeal the ACA, which included news anchors reporting that Republicans had passed a bill to repeal key parts of the ACA.
President Barack Obama was still in office at the time and vetoed the legislation — which Republicans have not voted on again since Trump took office.
To be sure, Senate Republicans have not yet given up on an attempt to pass ACA repeal legislation solely with Republican votes before bringing Democrats into the mix for a compromise.
McConnell sent a proposal to the congressional budget office last week that would, for all intents and purposes, create high-risk pools that would be more expensive for Americans with pre-existing conditions. It's unclear if that plan would be able to garner more support than the proposal that McConnell was forced to delay a vote on last week.
The plan McConnell had released would lead 22 million people to lose health insurance coverage, according to the CBO, and is immensely unpopular with voters.