Donald Glover's 'Spider-Man: Homecoming' character is the film's best Easter egg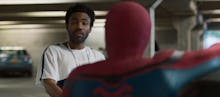 Ever since it was announced that Donald Glover would be joining the cast of Spider-Man: Homecoming, there has been speculation over who the Atlanta star would be playing. Perhaps the most desired role was that of Miles Morales, the young Spider-Man from Marvel's now-defunct Ultimate universe.
While Glover, at 33, is a bit too old to play the teenage Spider-Man, he does voice the character for two episodes in Disney XD's Ultimate Spider-Man series, so it would be pretty cool to see him portraying Morales in live action — especially since Glover campaigned strongly to be cast as Spider-Man in the first reboot, 2012's The Amazing Spider-Man, which Andrew Garfield went on to star in.
(Editor's Note: Minor spoilers ahead for Spider-Man: Homecoming.)
With Spider-Man: Homecoming now dazzling in theaters, those that have seen the movie know that Glover does not play Miles Morales, but rather a small-time criminal named Aaron Davis. While casual fans of comic book movies may not recognize that name, those that do may realize that Glover's character is Homecoming's very best Easter egg.
In the Ultimate Marvel universe, Aaron Davis becomes the villain known as the Prowler, a character that has actually been around the main comic continuity since the 1960s. What is more significant, though, is that Aaron Davis' nephew is Miles Morales, who, as previously mentioned, becomes an alternate version of Spider-Man.
Glover's Homecoming appearance as Aaron Davis is not only a fun nod to his former voice role, but also all but confirms that Miles Morales exists within the Marvel Cinematic Universe. And though Davis only shows up in two scenes, he does mention that he has a nephew, after being poorly, and hilariously, interrogated by Spider-Man (this is one of several scenes that prove Tom Holland was the perfect choice to play Peter Parker).
Miles Morales in the MCU
Should Morales indeed exist within the MCU, it's possible that we could see him play a role in Spider-Man: Homecoming's sequel, which is set to arrive after the fourth Avengers film, or in a future film down the line. And Marvel would be smart to include the teen in a subsequent movie. While Homecoming is one of Marvel's more diverse films, Morales' existence presents the opportunity to feature a new hero with a diverse background (in the comics Miles is a Black teenager of Hispanic descent).
Marvel's cinematic history also suggests that Morales could very well appear in a future film as a sidekick to Peter Parker. Iron Man 2 and Captain America: The Winter Soldier both followed up solo debuts with the introduction of a secondary hero or sidekick. In Iron Man 2 it was War Machine, while Sam Wilson, aka Falcon, made his debut in the second Captain America. Further, Ant-Man's sequel is set to feature Evangeline Lilly's Wasp alongside Paul Rudd's Ant-Man. Basically, prior films suggest that Parker could take someone under his wing (or web) — and it would make sense for that person to be Morales.
When Marvel brought Miles Morales into the main comic continuity, after ending the Ultimate universe, the young character became a mentee to an older Peter Parker. Perhaps we can see that relationship begin to form in Homecoming's sequel or a third film further down the line, since Parker is only a sophomore in high school. Either way, with Morales' existence in the MCU seemingly certain, it makes sense that fans will see him pop up at some point in the not-too-distant future.
Spider-Man: Homecoming is now playing theaters.
Mic has ongoing coverage of Marvel. Please follow our main Marvel hub here.