'Zelda: Breath of the Wild' DLC 2 Spoilers: "Champions' Ballad" gameplay sneak peek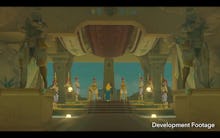 As of June 30, players have been loving and pulling their hair out over the new Zelda: Breath of the Wild DLC. We not only got Tingle clothes and fancy headwear, but also Trials of the Sword — which was basically Eventide Island on steroids. If you paid for the previous Zelda DLC you'll also get more content coming this holiday season at no extra cost. The second pack is called "The Champions' Ballad" and we've finally received visuals of what to expect.
Zelda DLC Spoilers: "Champions' Ballad" story looks awesome already
Shown at Japan Expo, the upcoming Zelda: Breath of the Wild expansion has an all-new story. Many are implying that the game takes place after the battle with Ganon. We even got a brief glimpse at what we can expect from the game. Check Nintendo Europe's tweet below.
The video is short and the Zelda DLC development isn't finalized, so the video shows a disclaimer in the bottom right. But one thing is clear from the 17-second video: This is a story about Zelda's champions that we haven't seen before.
According to the official Nintendo Europe Twitter, we can also look forward to more clothing. Much like the various tunics that have arrived from previous games, Link will gain access to his lobster shirt from Wind Waker. Here's how it'll look:
And you thought the Tingle outfit turned heads.
Zelda's "Champions' Ballad" DLC launches sometime this winter, during the holiday season.
Check out more Zelda: Breath of the Wild news and coverage
Find out all there is to know about Zelda: Breath of the Wild, including if the giant world of Hyrule even has any people of color. Learn how to preserve your items, how to beat bosses like the Stone Talus and Lynel, the best recipes for Link and how to take on the game's shrines. If you're looking to snag a giant horse with little stamina, here's you accomplish that. You'll also want to find out where all the great fairies are in the game, how to use amiibo with your version of Zelda and what went into making Breath of the Wild.