Delta flight reportedly forced to turn around after a man assaulted a flight attendant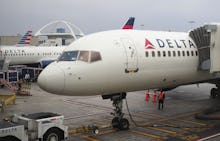 A Delta Airlines flight that was headed from Seattle to Beijing was forced to turn back on Thursday after a man allegedly assaulted a flight attendant about 45 minutes into the flight, the Associated Press reported.
A spokesperson for Seattle-Tacoma International Airport said the incident occurred aboard Delta Flight 129, according to the AP. The passenger, a 23-year-old man whose name has not been released, was seated in first class.
The spokesperson said the passenger assaulted and injured the flight attendant and other passengers helped to restrain him. The man was arrested when the plane landed again in Seattle. In a statement, Delta said that "the passenger was restrained on board and was removed from the flight by law enforcement without further incident," the AP reported.
The flight attendant and another person who was injured were taken to the hospital, and the plane took off again later on Thursday night.
Officials told the AP that the incident did not appear to be a national security threat.
According to the International Air Transport Association, between 2007 and 2015, there were more than 49,084 "unruly passenger incidents" reported on aircrafts in-flight — including assaults, harassment and violence against both crew members and other passengers.