'Call of Duty WW2' Zombies: Gameplay for co-op mode to be revealed at Comic-Con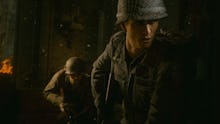 Modern Call of Duty games are three-pronged affairs. We've already seen Call of Duty WWII's campaign and competitive multiplayer modes, but what about the co-op zombies mode? Well, turns out that we'll see it — and possibly some gameplay — very soon.
Call of Duty WWII zombies mode will be revealed at Comic-Con
We'll see the World War II version of zombies on July 20 at San Diego Comic-Con. Here's to hoping we get a zombified Josh Duhamel.
More gaming news and updates
Check out the latest from Mic, like this essay about the sinister, subtle evils lurking in rural America that Far Cry 5 shouldn't ignore. Also, be sure to read our review of Tekken 7, an article about D.Va's influence on one Overwatch player's ideas about femininity and an analysis of gaming's racist habit of darkening villains' skin tones.