Zendaya's 'Spider-Man: Homecoming' role is not what it seems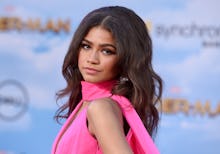 Spider-Man: Homecoming is now playing in theaters and it is easily one of the top Spider-Man movies ever made. Tom Holland shines as the teenage Peter Parker, a hero who is very much going through some growing pains; Michael Keaton's Vulture is one of the best Marvel villains in years; and the film thrives from its connections to the Marvel Cinematic Universe, without being held back by them. Still, Homecoming is not perfect, and one area that could be improved upon in a sequel is the film's use of its strong female characters.
(Editor's Note: Minor spoilers ahead for Spider-Man: Homecoming.)
When Zendaya was announced as Spider-Man: Homecoming's female lead, it was immediately assumed that she would be playing Peter Parker's long-time love interest, Mary Jane "MJ" Watson. Since the internet is full of trolls, this resulted in some backlash from those that felt Mary Jane should be played by a white actress with red hair, as she is portrayed in the comics (she was played by Kirsten Dunst in the original Spider-Man trilogy). Zendaya was later revealed to be playing Michelle, one of Peter's friends — though in the film she is basically a loner with a bit of an indifferent attitude.
Zendaya's inclusion in Homecoming as a female lead other than Mary Jane presented a great opportunity for Marvel to create a strong female character to stand alongside Peter Parker, without being relegated to love interest status. And that is exactly what Marvel did, with one tiny caveat: Zendaya was not in the movie nearly as often as one may have expected. While I did not take a stopwatch with me into the theater to know for sure, she certainly appeared to be on screen far less than Parker's best friend Ned, who I must add was played hilariously by Jacob Batalon.
When Zendaya was on screen, she thrived as the perfect embodiment of that indifferent high school student who doesn't conform to any particular group or clique. Most of Michelle's one-liners were sly, or sometimes even snide, remarks that generally provided some comic relief — not that the movie needed any more comedy (it's easily one of the funniest comic book movies to-date). But due to the nature of comic book movies, this was her role, and there wasn't much time for further exploration of her character. Ultimately, Michelle fell below the film's other two female leads in terms of importance — at least in Peter's eyes.
This is not necessarily an enormous problem, and does not mean that Marvel did not treat its female characters well, as Marisa Tomei was very funny as Peter's far-younger-than-we-are-accustomed-to Aunt May and Laura Harrier was charming as Peter's first high school crush Liz, who plays an even more important role in the film which I will not spoil here.
As the designated female lead, though, it is fair to have assumed that Zendaya's Michelle was meant to play a larger role in Homecoming than she actually did. The good news is that it sure looks like she'll have a far more significant part in the sequel. Near the end of the movie, after Liz's mother moves her to Oregon, Michelle is named the new captain of the academic decathlon team, of which Peter and Ned are both members. Moments later, she tells them that her "friends call her MJ." Subsequently, she, for the first time that I could tell at least, gives Peter a look like she may be interested in him after all.
So, what does this mean? Basically, Zendaya is probably being set up as Peter's love interest going forward. And this is significant, as it means Homecoming's sequel will present Peter with a romantic interest unlike many he has had in previous movies. Michelle (or MJ) is not your stereotypical female comic book character who is defined by her crush over the superhero, but rather has her own ideals and a distinct personality.
Though her scenes may be somewhat limited in Homecoming, they do present a pretty strong picture of who Michelle is: She refuses to enter the Washington Monument because it may have been built by slaves, likes to draw people in distress and like many in real life, doesn't necessarily feel like she belongs. That is certainly not the typical description of Mary Jane Watson.
While it sounds like Michelle will be referred to as MJ going forward, it's unlikely that her name will actually be officially, through some witty line of dialogue, changed to Mary Jane. Still, it does appear as if she will be assuming Mary Jane Watson's role in the Homecoming universe — one of the most important women in Peter Parker's world. And this is a good thing, as Michelle is a unique leading character unlike most we have seen in prior comic book adaptations.
Spider-Man: Homecoming is now playing in theaters.
Mic has ongoing coverage of Marvel. Please follow our main Marvel hub here.