Don't panic, Instagram is not deleting accounts. It's just a bug.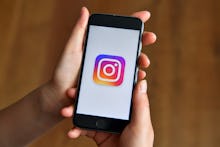 Instagram users have been getting quite a scare over the past 24 hours, as some users of the photo- and video-sharing app have witnessed a social media nightmare become a reality. An undisclosed number of accounts have been deleted or disabled, the Verge reports.
Some of the affected users received a message saying they violated Instagram's Community Guidelines and Terms of Use while others got no explanation or notification. Others are saying the app asked for their phone numbers to verify their accounts, but they didn't receive any confirmation via text and their pages were disabled.
Users are taking to other social media platforms — Twitter, Facebook and Reddit — to air their grievances and demand answers. Instagram, which has 700 million monthly users, has acknowledged the issue.
"The bug logged some users out of their accounts, while also locking their accounts from view," a spokesperson told BuzzFeed. "When the bug is fixed and affected users are able to log back in, their accounts will be viewable again." The Facebook-owned platform also took to Twitter to keep users calm.
Instagram is reportedly cracking down on third-party platforms that generate automated comments and likes — these apps and sites violate Instagram's terms. The platform is also "shadowbanning" accounts. This means content with "spammy hashtags" won't appear in search or on the Explore page of the app. Whether the bug is related to these recent efforts is yet to be determined.