'Overwatch' Doomfist Gameplay: Get to know the new hero and his abilities with these videos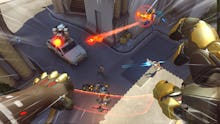 Doomfist is here. The new Overwatch villain is finally upon us, and boy, is he an interesting character.
In all the excitement Thursday, streamers and famous community personalities got online and played Doomfist in the public test realm to give fans the chance to see what he can really do.
Overwatch Doomfist gameplay: These videos demonstrate how the new hero works
We've gathered a few videos to give you a taste of what Doomfist is going to be like. If we're going to start with something, it might as well be the best. Seagull, notably one of the best Overwatch players, got on his Twitch on Thursday to stream some Doomfist.
Below is a video of one of the highlights from that stream. One of the most interesting pieces of Doomfist's mechanics is the potential for chain attacks or combos. It honestly seems like Doomfist is a fighting game character that was dropped in the world of Overwatch.
Excitable Overwatch personality Stylosa released a video of a custom game professional players put together to see how Doomfist fits into the current meta.
Although it probably won't be entirely helpful, it's useful to see which characters can be used to fight Doomfist and which ones are weak to his abilities.
As is the case when any new character comes out, players are interested in how their abilities will impact the rest of the game.
And for Doomfist, this is a big question. Every part of his kit is a mechanic we haven't seen in the game before — including a gun that recharges over time, as opposed to reloads, and an ultimate ability that feels a lot like an airstrike from Modern Warfare.
Players are curious about a number of in-game matchups, though. What happens if Doomfist and Reinhardt charge at each other? How does Zarya's bubble react to getting punched?
The video below by Lone Hawk breaks down every ability interaction:
More Overwatch news and updates
For more on Overwatch, check out the rest of what Mic has to offer. Here is an intro to the cute, new "Wholesome Overwatch" subreddit, a look at some gorgeous Overwatch-themed PS4 and Xbox One controllers, a cool Easter Egg in the new Horizon Lunar Colony map and a criticism of Blizzard's failures in its design of Symmetra.