Nintendo Switch NES Games: Virtual Console hints could be tucked away inside the console's code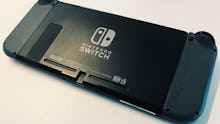 We've dedicated plenty of articles on this site to the Nintendo Switch Virtual Console and there's one underlying theme: we all want it. The ability to play retro games on Nintendo's latest console is a nostalgia-fueled win for both gamers and Nintendo's profits. The fact that Nintendo has yet to bring us old games on the perfectly-capable Switch is baffling. But the latest info from deep within the Switch says that NES game support may not be too far off.
Nintendo Switch NES Games: Emulator for old games build right into the Switch
According to the Switchbrew Wiki, and as noticed by Source Gaming, software built into the Switch's firmware acts as an NES emulator. The software is codenamed "flog." Check out the evidence below.
Nintendo Switch NES Games: Yes, the Switch can run NES games, but which?
Even though much of Nintendo's Virtual Console plans are surrounded by question marks, we do know we'll be receiving an online service with old games of some sort. NES titles like Super Mario Bros. 3 and Dr. Mario are already confirmed to come. With, presumably, more old games on the way, it's no surprise that an NES emulator was tucked inside the Switch. The main question is which NES games will come to the system?
Check out more Nintendo Switch news and coverage
Looking for more Nintendo Switch news? Check out how blind gamers are using the Nintendo Switch and why you can't get your Mii to look quite like you. Nintendo's left Joy-Con issue turns out to be a hardware problem — here's how to solve it. Find out how to buy a console amidst the recent restock. Learn why the Switch cartridges taste so bad. Check out our comparison photos sizing up the Switch to the Wii U GamePad (part one and part two), or find out how to make use of ethernet without the dock and the best way to get alerts when new stock arrives.