'Splatoon 2' Pearl and Marina "Off the Hook": The internet reacts to the nautical pop stars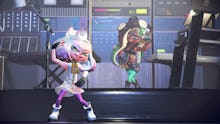 Like the rest of the world, we're in love with Marina and Pearl from Splatoon 2. The two new songstresses will replace Callie and Marie as the game's primary news-delivery service, and we couldn't be more excited. Nintendo released a music video to get us all jazzed up about it.
Splatoon is so weird and cool, folks. Anyway, as you would expect, something happened and the internet reacted to it.
The internet reacts to Pearl and Marina in Splatoon 2
If people weren't excited for Splatoon 2 before this, they are now. Just look at what Twitter had to say about it.
Of course, there weren't just reactions. There was plenty of fan art going around Twitter, too. This stuff is pretty incredible.
There's some great Marine and Pearl fan art and reacts out there and this is just the beginning.
More Splatoon coverage
Read more of our Splatoon news and coverage, including our impressions of the open beta back in March and at the Nintendo Switch event in January. Find out everything we learned about the game back in January. If you're looking for more information about the April 2017 Nintendo Direct, check out the proceedings here. Or if you want to check out general Nintendo Switch news see reports of screen defects in the Switch and what you can expect if you're trying to buy one.