John Podesta responds to Donald Trump's Twitter attacks: "Get a grip man"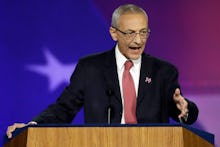 President Donald Trump claimed in a Friday morning tweet that "everyone" at the G20 Summit in Germany was talking about Hillary Clinton campaign chairman John Podesta, alleging Podesta "refused to give the DNC server to the FBI and the CIA."
Podesta fired back at the bizarre missive, calling Trump a "whack job" and telling him to "get a grip" and focus, instead, on his meeting with Russian President Vladimir Putin.
"The Russians committed a crime when they stole my emails to help get you elected president," Podesta — whose emails were released by WikiLeaks in the final weeks of the campaign — tweeted from a road trip he said he was taking with his wife. "Maybe you might try to find a way to mention that to President Putin."
Podesta went on to tackle Trump's claim that Podesta was the person at the Democratic National Committee who didn't hand over the server from which Russian hackers stole emails. While Podesta's emails were hacked, his emails were separate from those of the DNC's, which were also hacked by Russians.
"BTW, I had nothing to do with the DNC," Podesta tweeted.
"God only knows what you'll be raving about on Twitter by the time we get to Utah," Podesta added, referring to his cross-country road trip.