'Tekken 7' Bowling: DLC release date will bring back 'Tekken' Bowl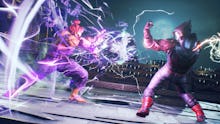 Back in June, we caught wind that internet hacker gangs had found hidden goodies hinting at the DLC Tekken 7 would eventually receive. Thanks to GameSpot and Bandai Namco, the goofiest result of that data-mining operation is now a reality. Say hello to Tekken 7 bowling.
Tekken Bowl coming to Tekken 7 as DLC
The trailer above has about five seconds of actual gameplay compared to two minutes of Tekken series director Katsuhiro Harada doing goofy trick bowling in a Bullet Club T-shirt, but it gets the job done. Tekken Bowl, the giddily stupid bowling minigame that's been around since Tekken Tag Tournament, is coming to Tekken 7 as downloadable content in August.
The trailer doesn't give a specific release date or a price or offer much information beyond a confirmation — though you can grab the season pass now if you want. It would be really cool and dumb if this new version of Tekken Bowl had online functionality, but we'll have to wait and see with that one.
More Tekken 7 tips, tricks and guides
Ready to take your Tekken 7 game to the next level? Check out our official review, along with a piece arguing that Tekken 7 is a terrible introduction to fighting games. Then read up on the full character roster, tier list rankings, how to unlock every fighter and some juicy DLC rumors.