'Pokémon Go' Anniversary Event: Niantic wants to build a community around the game, but can they?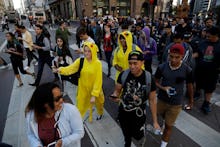 It's Pokémon Go's first birthday, and there's a lot to love if you're a fan of the mobile game. This summer alone we've seen a gym overhaul and the introduction of raid battles. We've also got a one-year-anniversary event and the looming excitement of a Chicago live event later in July.
But how long will Pokémon Go last? Niantic employees have mentioned one of their goals moving forward is to sustain the current base of players. Is it likely that we'll see the inclusion of every generation of Pokémon during the game's lifespan? Nothing's set in stone, but here's what the data suggests.
Pokémon Go Anniversary Event: A lot of source material and the possibility of a bump in new users are points in the game's favor
One of the biggest advantages in Pokémon Go's wheelhouse is they're in no danger of running out of Pokémon. Niantic only released Gen 2 in early 2017, and fans are still waiting for legendary Pokémon as well. Assuming a similar trajectory for subsequent generations, Pokémon Go has six years' worth of new Pokémon they can introduce, assuming they stick to the generation gaps from the main games. This also doesn't take into account the introduction of shiny Pokémon, of which the game currently has only two.
Additionally, the concept of a long-term community for a mobile game isn't as unusual as it might seem.
"If allowed to, and appropriately supported, an active community can boost growth and break even more records in a great game like Pokemon Go," Mariano Fernandez, project manager for the game Trivia Crack, told us via email.
According to Fernandez, fostering a community has two key components: A developer needs to actively participate in the game and listen to user feedback. Active participation fosters investment in players, making them less likely to move on. Listening to feedback makes users feel valued and like they're a part of something bigger than just their in-game experiences.
It's also possible that Pokémon Go could see a bump in new users at some point in the future. Etermax's CTO Gonzalo Garcia told us that Trivia Crack's success came in two waves: The game had 10 million daily active users in South America in March 2014 and grew to 25 million in the U.S. later that year in October. Assuming Pokémon Go can find new markets, it's not inconceivable they could experience a similar bump.
Pokémon Go Anniversary Event: Low retention rates and a difficult search for new markets could prove hurdles for the game
The gym overhaul and raid battles are a good first step. Fans are also hopeful that the Chicago Pokémon Go fest will give players their first look at legendaries. Not a huge stretch to assume given that there's already mention of them in the game's code. This isn't to say that Pokémon Go won't have issues moving forward. Players have also waited a long time for player-vs-player battles and some form of trading and have yet to see any news about them.
"This disillusioned the community greatly, as they waited for these features for months on end and they never came," Fernandez said.
Pokémon Go has also had issues retaining suburban and rural players. There's no shortage of articles detailing how frustrating it is to play Pokémon Go when you live outside of a major metropolitan area.
According to data we received from StartApp, an analytics firm with access to 1.1 billion devices worldwide, the U.S. accounts for 14% of Pokémon Go users. That's more than any other country by a large margin — with a commanding six-percentage-point lead over Brazil's 8%. Engaging rural users is sure to be a major hurdle for Niantic moving forward.
StartApp's data also revealed that 60% of users had downloaded Pokémon Go within the game's first three months. Adventure games — the subset Pokémon Go belongs to — also have the lowest player-retention rate among gaming genres; 67% to be exact. That's a full seven percentage points lower than casino games, which have the highest at 74%..
The data doesn't solely provide bad news, though. For instance, 13% of mobile users have an adventure game on their phone. Additionally, 74% of users with an adventure game on their phone only have one adventure game. This means that most Pokémon Go players tend to dedicate more time to Pokémon Go than they do other adventure games.
Pokémon Go Anniversary Event: The game already has a dedicated community, but Niantic's choices will determine whether it grows or shrinks
One of the largest points in Pokémon Go's favor is that it already has a dedicated fan community. On the Silph Road subreddit, Pokémon Go fans swap strategies, test theories and take part in community-coordinated events. Players can also find new spawn locations and get raid alerts on the attached research site. The Silph Road also provides crucial insight for what's next by data mining the game's APK packages.
It's ultimately up to Niantic to shape how much the game does — or doesn't — grow. The live event in Chicago is promising, as is their recent partnership with a heritage foundation in the U.K. They've promised more events to come in Europe over the summer, as well as a third Japan-exclusive event. Live events are a staple of Niantic's previous game, Ingress. If Pokémon Go continues to focus on bringing people together in the real world, they might just get the community they're looking for.
And hey, if that doesn't work, there's always promo codes.
More Pokémon Go news, updates, tips and tricks
Raids are here! See why they may be the key to legendary Pokémon. Find out how to determine how long it will take you to reach level 40, and see what we think of the Gen 2 Pokémon added to the game. Here are the kinds of Pokémon you get from 10-kilometer eggs, and here's where you can check out what you missed during the Water Festival and Solstice events. Find out more about the upcoming Chicago event and why you'll probably be able to catch Unown while you're there — if you're not busy searching for rare evolutionary items, that is.