Russia, US prepared to announce joint ceasefire in Syria on Sunday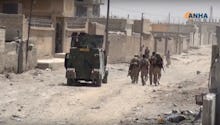 The United States and Russia have reached an agreement for a cease-fire in southwest Syria beginning Sunday, according to U.S. officials who spoke to the Associated Press.
The news broke as U.S. President Donald Trump was sequestered in a closed-door meeting with Russian President Vladimir Putin at the G20 summit in Hamburg, Germany. The two countries have backed opposing sides in Syria's heady political conflict, with the Russians providing support for sitting Syrian President Bashar Assad and the U.S. opting to arm anti-regime rebels.
Despite the conflicting interests in the country, U.S. Secretary of State Rex Tillerson said Friday that both countries were interested in ushering in a new era of stability in Syria.
"We spent a very, very lengthy period on Syria with a great amount of detail on the agreement we concluded today but also where we go," Tillerson said in an off-camera press briefing, according to CNBC.
Tillerson said that the ceasefire will begin on Sunday, July 9, at noon Damascus local time.
The announcement of the cease-fire deal comes just days after the Syrian military announced a unilateral four-day suspension of combat operations in the country's southern provinces of Daraa, Quneitra and Sweida ahead of Russian-sponsored talks in Astana.
That cease-fire is scheduled to end on Saturday — just one day before the U.S.-Russian deal is set to go into effect.
According to the AP, at least one U.S. official described the deal as part of a broader set of discussions with Russia on how to deescalate the violence that has wracked war-torn Syria since civil war broke out in 2011.
The news service also reported that Trump and Putin had touched on the details of during their more than two-hour meeting in Germany on Friday, which had initially been scheduled for just 30 minutes.