The US and Russia are already contradicting each other about what happened in Trump-Putin meeting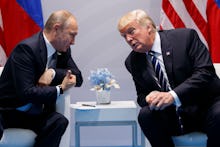 President Donald Trump and Russian President Vladimir Putin emerged from their first in-person meeting with conflicting narratives about Russia's meddling in the 2016 presidential election.
While Secretary of State Rex Tillerson said Trump kicked off the meeting by bringing up Russia's hacking in the election, Russian Foreign Minister Sergey Lavrov said Trump accepted Putin's denial that Russia did any meddling at all.
Tillerson said Trump "pressed Putin more than once" on Russia's meddling, according to CNN's Jeff Zeleny. But Putin denied that Russia interfered.
"The question is what we do now," Tillerson said, according to Zeleny. "The relationship is too important to not find a way to move forward."
Lavrov, however, suggested both sides were now moving on, as Trump accepted Putin's denial about meddling in the U.S. election.
Trump came under fire Thursday for not fully accepting the U.S. intelligence committees' unanimous conclusion that Russia meddled in the 2016 presidential election. Trump has said he thinks Russia meddled, but said others could have as well, and has yet to issue a full-throated public condemnation of Russia's actions.
Putin, on the other hand, said he spoke to Trump about fighting terrorism and cyber security, according to RT, a state-owned Russian news outlet.
"We've had a very long discussion with the U.S. president. Many issues accrued, including Ukraine, Syria and other problems, as well as some bilateral issues," Putin said, according to RT.
During the meeting, the Associated Press reported that the United States and Russia came to a joint ceasefire in Syria — where the two countries back opposing sides in Syria's years-long civil war.
Before the meeting kicked off, Trump and Putin sat down to exchange pleasantries while cameras snapped photos and captured video of the world leaders' interactions.
Trump said it was "an honor" to meet with Putin. Putin said he was "delighted" to meet with Trump.
The meeting, which was scheduled to be 30 minutes long, lasted two hours and 16 minutes, according to a pool of reporters traveling with Trump.
July 7, 2017 1:53 p.m.: This article has been updated.