3 takeaways from Donald Trump's G20 meeting with Vladimir Putin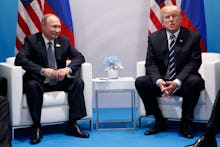 President Donald Trump and Russian President Vladimir Putin had their first in-person meeting on Friday during the G20 Summit in Germany, a sit-down that reportedly tackled everything from the civil war in Syria to Russia's meddling in the 2016 presidential election.
But the two countries have since told conflicting stories about what actually occurred in the highly anticipated talk that lasted for more than two hours.
Here are the three takeaways from the Trump-Putin confab.
The U.S. and Russia agreed to a ceasefire in Syria
While the two countries back different sides of the civil war that's plagued Syria for years, both sides agreed to a ceasefire in the country.
Russia and Iran back Syrian President Bashar al-Assad, whereas the U.S. is on the side of the rebel forces trying to oust Assad from power.
But Secretary of State Rex Tillerson said the ceasefire agreement is "our first indication of the U.S. and Russia being able to work together in Syria."
"As a result of that, we had a very lengthy discussion regarding other areas in Syria that we can continue to work together on to de-escalate the areas," Tillerson said after Trump and Putin met.
There's no agreement on how to proceed after Russia's election interference
While Tillerson said that Trump confronted Putin about Russia's meddling in the 2016 campaign, the White House doesn't seem any closer to determining how to move forward.
Members of the intelligence community, such as former FBI Director James Comey, have sounded the alarm that Russia will return to hack and meddle in future elections in the U.S.
Yet Putin denied involvement, and Tillerson said Trump wants to "move on" — a comment that's likely to incense Democrats and Republicans alike who are not OK with the fact that a foreign power attacked one of the core tenets of American democracy.
In all, Trump's meeting with Putin is unlikely to put to rest concerns about Russia's election meddling and the cloud it's created over Trump's presidency.
President Donald Trump needs to give a news conference to address the discrepancies
Just six people were in the meeting: Trump, Putin, Secretary of State Rex Tillerson, Russian Foreign Minister Sergey Lavrov and two translators.
Tillerson's readout of the sit-down and Lavrov's account of the meeting could not have been more different on the subject of Russia's interference in the U.S. presidential election.
Tillerson said Trump confronted Putin on the meddling in what he described as a "robust" conversation.
Lavrov, on the other hand, said Trump accepted Putin's denial that Russia hacked the election.
The discrepancy demands that Trump himself come out and give his account of what took place.
Trump has sought to delegitimize the U.S. intelligence community's findings that Putin himself orchestrated the cyberattacks meant to influence the 2016 presidential election. In fact, he tried to poke holes in the intelligence community's findings on Thursday, just one day before meeting with Putin, during a news conference in Warsaw, Poland.
Trump said the intelligence community has been wrong before, citing the faulty weapons of mass destruction intel that led to the Iraq War, and suggested without evidence that other countries may have also meddled in the election.
If Trump didn't accept Putin's denial that Russia hacked the election, Trump needs to come out and say so himself.