Taste Test: The best vanilla ice cream you can buy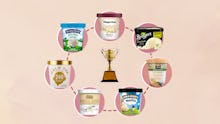 This week, Out of Office is celebrating all things ice cream. Follow along as we explore the sweet history and unexpected influences of America's favorite dessert.
"Vanilla" is an adjective often used to describe bland or boring personalities, but when it comes to ice cream, the flavor reigns supreme. Can you imagine apple pie with a scoop of any other flavor?
Since vanilla ice cream plays a pivotal role in so many beloved desserts — and is the ultimate basis by which to judge a brand — Mic staged its own taste test of seven brands: four standard ice creams, one frozen yogurt, one "healthy" ice cream and one vegan ice cream.
How we set up the test
The ice creams were scooped into separate bowls, to avoid any branding influence. Testers gave feedback on taste, vanilla flavor, texture and "meltiness," a metric to distinguish mouthfeel.
Each tester picked their top three ice creams and ranked them. Three points were assigned to brands who were ranked in first place, two to those ranked second, and one to those ranked third. The rankings are below, with the price per ounce calculated based on the cost of ice creams purchased at Whole Foods and Target in New York City.
Taste test results
7. Nada Moo Vanilla-ahhh (31 cents per ounce; 140 calories per half-cup serving)
Unsurprisingly, most testers could immediately tell that this dairy-free ice cream was a little different from the rest. The "vanilla-ahhh" flavor was liked the least.
"Ew, why does it taste like coconut?" said one tester. Another said it tasted good but not vanilla. People were split when it came to texture — some found it "very creamy" but others said it had a watery texture that was "fine but weird."
6. Haagen-Dazs (27 cents per ounce; 250 calories per half-cup serving)
This legacy ice cream brand was disliked in this taste test. People described the taste as "sour" and even "chemical-y" and "fake." The vanilla flavor was there, but people said it seemed compromised in some way.
"Bad taste, I want nothing to do with that," one tester noted.
5. Stonyfield's Frozen Yogurt (26 cents per ounce; 100 calories per half-cup serving)
Despite being a lower calorie fro-yo, this dessert was middle of the pack in the taste test. People either loved it or hated it, but the taste left some people guessing about what was in it.
Responses ranged from "tastes awesome, not too sweet" to "powdery, weird aftertaste, super artificial vanilla flavor." Most people noted that the vanilla flavor was weak but not everyone was offended by that.
4. Breyer's Lactose-Free Vanilla (9 cents per ounce; 110 calories per half-cup serving)
This ice cream is proof you can have it all: It's the cheapest of the bunch, it's low in calories and it's lactose-free despite being made from real cream. (Yes, food scientists have figured out how to make certain dairy products lactose-free.)
Testers described Breyer's as "vanilla-forward" and said it had great texture. One person even guessed that it was Breyer's. Others panned the icy texture and said it was too sweet.
3. 365 Organic Vanilla Bean Ice Cream (15 cents per ounce; 140 calories per half-cup serving)
When we opened this quart, there was a thick layer of ice on top of the frozen dessert. Luckily, after we scooped around it, the iciness didn't seem to interfere with the taste testers' favorable opinions.
People noted that it was very soft and creamy but the vanilla taste was lacking slightly. "Tastes like birthday cake" and "too sweet" were a few comments on taste.
The winners
1. and 2. Halo Top; Ben and Jerry's
In a surprising twist, beloved ice cream brand Ben and Jerry's tied with new-kid-on-the-block, low-calorie Halo Top. More people had Ben and Jerry's in their top three, but Halo Top had a high score because several people put it first in their personal ranking. Here's what we thought about each of the winning brands:
Halo Top Vanilla Bean (24 cents per ounce; 60 calories per half-cup serving)
As with many low-calorie ice cream alternatives, the Halo Top felt like it was deflating as we scooped into it. The site Fooducate pointed out in 2016 that a Halo Top pint weighed a mere two-thirds of the weight of a Haagen-Daz pint because the product has a relatively large amount of air.
Nevertheless, the praise rolled in from our taste testers. One person found it "rich and smooth" and another said it had "great vanilla" flavor. Others could detect the erythritol, a sugar alcohol often used as a food additive that leaves a bitter, slightly alcoholic (and artificial) taste. Some people reported they loved the texture while others hated the mouthfeel, which they said was more melty compared to full-fat ice creams. When we stuck the half-eaten pint of Halo Top in the freezer and took it out a few days later, it did not taste as good as when we first scooped into the fresh pint.
Ben and Jerry's Vanilla (31 cents per ounce; 250 calories per half-cup serving)
This pint felt denser than the others when we scooped into it, yet the difficult scooping was well worth it: People loved this ice cream.
The creamy texture earned it rave reviews. "Smooth, very creamy" said one tester. Others noted its "classic, old-fashioned" and "great vanilla" taste. One person even incorrectly guessed it was Haagen-Dazs. Overall, many people felt that this one had a true vanilla flavor.